Roundup Residue In Food Not Properly Tested By USDA, Group Warns
January 15, 2016
By: Irvin Jackson
A food safety watchdog group indicates that federal regulators are failing consumers by not including the active ingredient in Monsanto's Roundup herbicide in its annual report on pesticide residue. 
In a press release issued on January 11, the group U.S. Right To Know, which focuses on issues of food, criticizes the U.S. Department of Agriculture (USDA) for not including the herbicide glyphosate on its 2014 annual Pesticide Data Program summary.
The annual report released by the USDA that same day concluded that no pesticide residues currently in use pose a safety concern for U.S. consumers.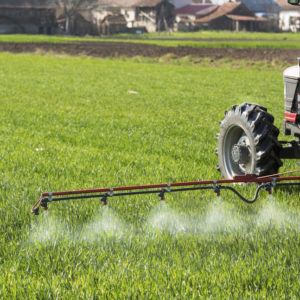 Right To Know claims that the USDA is not qualified to make that statement, since it has consistently refused to test for residue of Roundup or other glyphosate-based pesticides for years, an omission that has taken on increasing concern over the past year since it was determined that side effects of Roundup and other products that exposure individuals to glyphosate may include an increased risk of cancer.
"It is a scandal that USDA tests for hundreds of pesticide residues but not glyphosate, which is among the most widely used chemicals on our food crops," U.S. Right to Know co-director Gary Ruskin said in the press release. "Consumers want to know how much glyphosate is in our food. Why won't the USDA tell us?"
Roundup is one of the most widely used herbicides, which was introduced by Monsanto in the 1970s. A recent report on glyphosate usage by the U.S. Geological Survey found that an estimated 2.6 billion pounds of the herbicide has been used on America's agricultural land over the two decades since the mid-1990s, when Monsanto introduced "Roundup Ready" crops that are designed to survive being sprayed with glyphosate, killing the weeds but not the crops.
Consumer groups have been pushing for inclusion of the weed killer since at least 2013, when one study showed that glyphosate residue was detectable in women's breast milk. However, the USDA has refused to add the chemical to the annual PDP report, saying that it is too expensive to test for glyphosate and that trace amounts are not a safety issue. The report looks for pesticide buildups in baby formula, baby food and drinking water.
The Right to Know press release asks how the USDA can know there are only trace amounts if it's never tested for glyphosate residue.
Roundup Cancer Concerns
In March, the International Agency for Research on Cancer (IARC), an arm of the World Health Organization (WHO), designated glyphosate as a probable carcinogen for humans, raising questions about the safety of Monsanto's widely used Roundup weedkiller.
Monsanto has complained that the IARC's conclusions were agenda-driven and based on "junk science," indicating that it would convene an independent panel to review the Roundup herbicide cancer risks. While the findings of this panel were presented last month, they have not been peer-reviewed or published in a medical journal to date.
The criticism against the USDA comes just a couple weeks after the Center for Biological Diversity blasted the U.S. Environmental Protection Agency for failing to meet a deadline to complete a glyphosate risk assessment by the end of 2015.
It is not just U.S. regulators who are accused of running cover for Monsanto's Roundup weedkiller. Nearly 100 scientists from around the world recently wrote a letter to the European Food and Safety Authority (EFSA) over its decision to disregard the IARC warnings, paving the way for the herbicide to be relicensed for use in Europe with nearly no restrictions.
The scientists agree that the EFSA's findings that glyphosate did not cause cancer were not credible and not based on the evidence. The group also questioned whether the EFSA was vulnerable to industry influence and called on the European Commission to disregard the EFSA's findings..
In the U.S., a growing number of Roundup cancer lawsuits have been filed against Monsanto since the IARC ruling, both as individual claims bought on behalf of farm workers exposed to high levels of glyphosate and consumer class action lawsuits. In addition, a growing number of states, cities, and countries worldwide have enacted full or partial glyphosate bans to protect citizens from exposure.
"*" indicates required fields