Roundup Weed Killer's Primary Ingredient Passes Through Blood-Brain Barrier, Study Warns
August 05, 2022
By: Irvin Jackson
The findings of a new study raise additional concerns about the long-term health risks from glyphosate, the active ingredient in the controversial Roundup weed killer, suggesting that it can pass through the blood-brain barrier, potentially increasing the risk of Parkinson's disease, Alzheimer's disease and other neurological disorders.
Researchers from Arizona State University published a report this week in the Journal of Neuroinflammation, showing for the first time that glyphosate infiltrates the brain, suggesting that exposure to Roundup may have determental outcomes for the health of the general population.
Glyphosate has already been linked to an increased risk of non-Hodgkins lymphoma from Roundup, leading to tens of thousands of lawsuits in recent years against Bayer and its Monsanto subsidiary, alleging that the manufacturer has withheld important information about the risks associated with the herbicide for years and placed its desire for profits before consumer safety.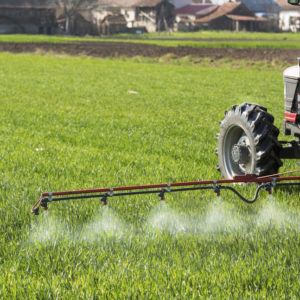 In this latest study, researchers conducted experiments on mice, finding that glyphosate infiltrated the brain, and the amount found in the brain tissue of the mice was dependent on the dose of glyphosate they received; meaning the larger the dose, the more glyphosate was found in the brain tissue.
Once in the brain, glyphosate appears to interact with a pro-inflammatory cytokine known as TNF- α. Dysregulation of this molecule has been linked with neuroinflammation diseases, such as Alzheimer's disease.
"We find increases in TNF-α in the brain, following glyphosate exposure," Lead researcher, Ramon Velazquez, said in an Arizona State University press release. "While we examined (Alzheimer's disease) pathology, this might have implications for many neurodegenerative diseases, given that neuroinflammation is seen in a variety of brain disorders."
Other potential brain disorders that the study findings suggest may be linked to Roundup include Parkinson's disease, Lewy body disease, Huntington's disease and other conditions. However, additional research on those specific conditions will be required.
Glyphosate Health Concerns
The findings add to growing concerns over glyphosate health risks that have emerged over the past decade, leading to new restrictions or outright bans on Roundup in some countries.
As a result of evidence that Monsanto has covered up information about the potential glyphosate risks for decades and manipulated scientific studies, a number of activists have been pushing for U.S. regulators to take a much harder look at the underlying data about the potential side effects of exposure to glyphosate, and require additional independent studies.
In February, a court ordered Canadian regulators to reassess the safety of Roundup, after determining that the agency did not follow its own rules in granting approval for the herbicide.
A similar decision issued by the U.S. Environmental Protection Agency (EPA), which also determined glyphosate is safe, is also being challenged by activist and environmental groups in the U.S.
In response to the growing concerns and massive verdicts returned in Roundup lawsuits, Bayer announced plans last year to remove the active ingredient glyphosate from versions of the weed killers sold to U.S. residential customers by 2023. The products would still be sold under the Roundup label, but would use a different active ingredient, which has not been linked to a risk of non-Hodgkin's lymphoma. However, glyphosate would still be used in products sold to agricultural businesses and farmers, and in product sold in other parts of the world, Bayer officials said.
L

August 19, 2022 at 7:08 pm

I'm so sorry to hear about your husband. I would like to know the answer to this question as well.

Tamara

August 6, 2022 at 11:17 pm

My husband has used Round up in farming as a Foreman for over 40 years. He now has Alzheimer's. Is their a study going on anywhere about a connection?
"*" indicates required fields