Evidence of Monsanto Influencing Roundup Regulation, Scientific Studies To Be Allowed During First Phase of MDL Trial
January 30, 2019
By: Irvin Jackson
The U.S. District Judge presiding over all federal Roundup cancer lawsuits has rejected a request by Bayer's Monsanto unit to exclude evidence that the manufacturer of the weedkiller manipulated regulators and scientific studies during the first phase of a trial set to start next month, calling it "super relevant" to the issue of whether exposure to Roundup can cause cancer. 
There are currently about 10,000 claims pending against Monsanto in state and federal courts nationwide, each involving similar allegations that frequent users of the weedkiller developed non-Hodgkins lympohoma (NHL) from glyphosate and other ingredients in the herbicide. Plaintiffs claim that Monsanto has known for years about the link between Roundup and cancer, yet withheld warnings and safety instructions.
Given similar questions of fact and law raised in complaints filed throughout the federal court system, U.S. District Judge Vince Chhabria has been appointed to preside over all pretrial proceedings in the U.S. District Court for the Northern District of California, as well as a series of early "bellwether" trials that are designed to help gauge how juries may respond to certain evidence and testimony that will be repeated through the cases.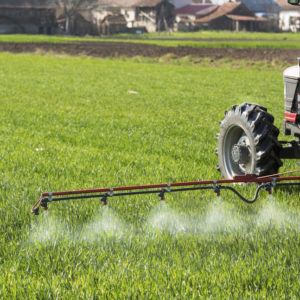 Following a California state court trial last year, Monsanto was ordered to pay $78.5 million to a former school groundskeeper diagnosed with non-Hodgkins lymphoma, after the jury determined that the company knew or should have known about the cancer risk with Roundup, yet provided false and misleading information to consumers and federal regulators.
Among evidence introduced during that trial, which plaintiffs intend to present in other cases, Monsanto has long engaged in a campaign to influence regulators and supposedly independent studies, even ghostwriting certain published reports that were then used to avoid regulations that may have limited sales.
Earlier this month, Judge Chhabria granted a request by Monsanto to bifurcate the upcoming federal Roundup trial, which is set to begin on February 25. As a result, the case will be presented to the jury in two phases, first addressing the question of whether exposure to Roundup could have caused plaintiff Edwin Hardemann's non-Hodgkins lymphoma diagnosis, before a second phase that would deal with the company's failure to warn about the risk and any damages.
Judge Chhabria indicated at the time that the unusual splitting of the trial was warranted in the case, avoiding issue about Monsanto's conduct that may be a distraction to the jury. However, at that time the Court indicated that if the plaintiffs have evidence that Monsanto manipulated the outcome of scientific studies, that evidence would likely be admissible during the causation phase.
In pretrial motions, Monsanto filed a motion to exclude certain evidence from the first phase, arguing that information indicating the company had unduly influenced regulators and scientists would prejudice the company, leading jurors to ignore the actual science of the case.
However, Reuters reported on Monday that Judge Chhabria issued a decision during a hearing on Monday, indicating that such evidence would not be excluded. Judge Chhabria agreed with plaintiffs that whether Monsanto affected the views of the scientific and regulatory community to get the results they wanted is very relevant to causation.
The presentation of internal documents on lobbying issues will be excluded from the first part of Hardeman's trial, as well as two other upcoming bellwether trials, however.
Following these bellwether trials, as well as a number of other state court trial dates expected to go before juries this year, if Monsanto fails to negotiate Roundup settlements or otherwise resolve the litigation, the company is likely to face an increasing number of individual trial dates in courts nationwide in the coming years.
"*" indicates required fields