New Study Reinforces Link Between Exposure to Roundup and Cancer Risk
January 31, 2023
By: Irvin Jackson
A growing body of scientific research has found a link between exposure to Roundup and cancer, with new research indicating that the glyphosate-based weedkiller increases oxidative stress, which is a key indicator for the initiation or progression of tumor cells.
Roundup has been widely marketed for decades in the United States, not only within the agricultural community, but also for residential use at homes, often featuring users applying the weedkiller without any protective clothing.
In 2015, the World Health Organization's International Agency for Research on Cancer (IARC) decided to classify glyphosate in Roundup as a probable cancer-causing agent, and a study stream of research has been released that suggests Roundup exposure increases the risk of non-Hodgkins lymphoma and other cancers.
As a result of Monsanto's failure to provide adequate warnings on their glyphosate products, tens of thousands of Roundup lawsuits have been filed by individuals diagnosed with cancer in recent years, and internal documents have been uncovered that highlight how the manufacturer worked to cover up negative findings related to the blockbuster weedkiller, and manipulated study results for decades.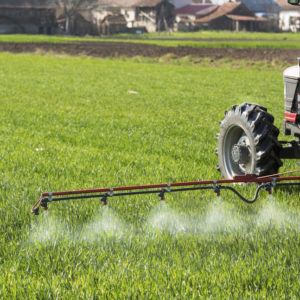 In a new study published this month in the Journal of the National Cancer Institute, researcher looked at links between exposure to glyphosate in Roundup and urinary oxidative stress biomarkers, which are known to increase the risk of cancer developing due to DNA mutations or damage.
Researchers with the National Cancer Institute and the U.S. Centers for Disease Control and Prevention (CDC) looked at data involving 268 male farmers, and evaluated their lifetime occupational glyphosate use and compared the findings to male non-farmers. Urinary oxidative stress levels were higher among farmers after both short-term and long-term exposure to Roundup, when compared to non-farmers who were not exposed to glyphosate.
"Our study contributes to accumulating evidence supporting the role of glyphosate in oxidative stress among humans and provides insights into potential mechanisms underlying previously observed associations with some hematopoietic cancers," the researchers concluded. "Future investigations including additional biomarkers of oxidative stress or other intermediate endpoints related to cancer development (e.g., genotoxicity, epigenetic alterations) may further inform the evaluation of the carcinogenic potential of this herbicide."
Roundup Cancer Lawsuits Over Glyphosate Risks
After several years of litigation involving the Roundup cancer risk, including several massive jury verdicts returned in early bellwether trials, Bayer and its Monsanto subsidiary have agreed to pay billions in Roundup settlements for former users diagnosed with non-Hodgkin's lymphoma. However, the companies are expected to continue to face claims over the glyphosate-based weed killer for years to come, as new cancer cases continue to be diagnosed.
In response to the growing concerns over liability exposure, the manufacturer announced plans last year to remove glyphosate from Roundup versions of the weed killers sold to U.S. residential customers by 2023. The products would still be sold under the Roundup label, but would use a different active ingredient, which has not been linked to a risk of non-Hodgkin's lymphoma and other side effects. However, glyphosate would still be used in products sold to agricultural businesses and farmers, and in products sold in other parts of the world.
"*" indicates required fields