Roundup Side Effects Can Cause Fatty Liver Disease At "Ultra Low" Doses: Study
January 19, 2017
By: Irvin Jackson
Amid ongoing concerns about the link between the side effects of Roundup and cancer, a new study suggests that exposure to even low amounts of the weedkiller may increase the risk of fatty liver disease. 
In a study published in the medical journal Nature on January 9, researchers from King's College London found that rats were more likely to develop non-alcoholic fatty liver disease following exposure to low doses of glyphosate, which is the active chemical ingredient found in Roundup and other widely used herbicides.
Researchers used molecular profiling methods to examine the livers of female rats fed extremely low doses of glyphosate over the course of two years. They were given as little as 4 nanograms per kilogram of body weight per day, which is the equivalent to 437,500 times lower than levels permitted in the U.S. and far lower than levels of Roundup residue recently detected in some popular U.S. foods.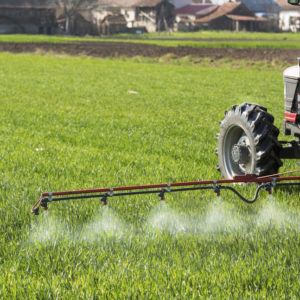 "Our integrated analysis of these molecular profiles is clearly reflective of features of non-alcoholic fatty liver disease (NAFLD) and its progression to non-alcoholic steatohepatosis (NASH)," the researchers indicated. "Our observations may have human health implication since NAFLD is predicted to be the next major global epidemic. Approximately 20–30% of the population in the United States carry extra fat in their livers. NAFLD is associated with the recent rapid rise in the incidence of diabetes, obesity, and metabolic syndrome."
Researchers warned that their findings suggest that chronic consumption of extremely low levels of Roundup, even at admissible levels, can alter the liver and result in liver damage.
Roundup Non-Hodgkin's Lymphoma Concerns
The findings come about two years after the World Health Organization's International Agency for Research on Cancer (IARC) determined that glyphosate is a probable human carcinogen, sparking world-wide concerns about the link between Roundup side effects and non-Hodgkin's lymphoma.
Last month, the U.S. Environmental Protection Agency (EPA) held a four-day hearing on glyphosate safety, with a panel of scientific advisers questioning the agency's methodologies on determining that the weed killer was safe.
The panel has 90 days to pour over the testimony, literature and evidence presented during the hearing, after which it will submit recommendations to the EPA. Those recommendations are non-binding, but usually have significant influence on the agency's final decisions.
Monsanto now faces a growing number of Roundup lawsuits filed throughout the United States, typically involving individuals diagnosed with a form of non-Hodgkin's lymphoma following heavy exposure to the herbicide as a farm or agricultural worker. The complaints allege that the manufacturer recklessly promoted Roundup and pushed greater and greater use of the chemical, without disclosing the potential health risks.
A recent U.S. Geological Survey on glyphosate usage nationwide found that an estimated 2.6 billion pounds of the herbicide has been sprayed on America's agricultural land over the two decades since the mid-1990s, when Monsanto introduced "Roundup Ready" crops that are designed to survive being sprayed with glyphosate, killing the weeds but not the crops.
The cases allege that plaintiffs may have avoided a diagnosis of non-Hodgkin's lymphoma or other cancers if they had been warned about the Roundup risks for farmers, landscapers and others in the agricultural industry, as safety precautions could have been taken or other products could have been used to control the growth of weeds.
Mark

February 27, 2023 at 3:42 pm

I have been diagnosed with non alcoholic liver disease. Is there any lawsuits for that right now?

Carol

October 14, 2022 at 7:15 pm

Both my husband and myself have been diagnosed with non alcoholic fatty liver. My husband developed liver and bile duct cancer. Can you help?
"*" indicates required fields