Roundup Weed Killing Formulations Are More Toxic Than Glyphosate Alone: Report
May 10, 2018
By: Irvin Jackson
Preliminary findings from an ongoing study suggest that exposure to Roundup formulations may be more toxic than exposure to the active ingredient contained in the weed killer, glyphosate, alone. 
The U.S. Department of Health and Human Services' National Toxicology Program (NTP) is currently reviewing glyphosate and glyphosate formulations, such as Roundup, for toxicity and its ability to damage DNA. In a recently released summary of its initial findings (PDF), the NTP found that glyphosate formulations decrease human cell viability.
Researchers indicate that while they did not find any toxicity associated with glyphosate alone, when the herbicide is combined with various formulations, it significantly alters cell viability.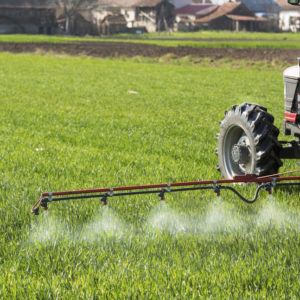 Despite the findings, the NTP says it is still not ready to agree with a 2015 assessment by the World Health Organization's International Agency for Research on Cancer, which determined that glyphosate was a probable carcinogen and that Roundup exposure was linked to an increased risk of non-Hodgkins lymphoma.
"Glyphosate formulations decreased cell viability by >90% at glyphosate equivalents approximately 20-50 fold lower than glyphosate," the researchers concluded. "The effects of glyphosate formulations appear to be due to the formulants and not to the glyphosate or other active ingredients."
However, the researchers said that the findings, which are only the first phase of results in the review, do not necessarily mean that Roundup exposure causes cancer and said they must still do additional testing on the weed killer's toxic impacts.
The U.S. Environmental Protection Agency released a draft assessment on December 18, 2017, and concluded that glyphosate does not pose a threat to human health and was not a cancer-causing agent. The move sparked widespread criticism and complaints that the agency was too cozy with Monsanto, which has been accused of undue influence over health agencies in the U.S. and Europe.
Prior studies and a number of product liability lawsuits filed against Monsanto have suggested that Roundup cancer risks may be due to more than just glyphosate.
A study published in January in Toxicology Reports by French researchers indicated that Roundup appeared to contain a number of toxic substances, such as arsenic, chromium, cobalt, lead and nickel. However, the study found that the most toxic ingredient in Roundup was the surfactant polyoxyethylene tallow amine (PFOA), which has been mentioned as a toxic ingredient in a number of lawsuits as well.
Roundup Cancer Lawsuits
The findings come amid a growing number of Roundup lawsuits filed by individuals nationwide, each of which allege that long-term exposure to the weed killer and its active ingredient, glyphosate, resulted in non-Hodgkin's lymphoma and similar cancers.
Internal documents produced during the discovery process have suggested that the manufacturer knew about the cancer risks associated with the Roundup active ingredients for years.
The complaints are centralized as part of a multidistrict litigation (MDL) pending before U.S. District Judge Vince Chhabria in the Northern District of California. The litigation has been consolidated for pretrial proceedings to reduce duplicative discovery into common issues, prevent conflicting rulings from different Courts and to serve the convenience of the parties, witnesses and the judicial system.
As part of the coordinated MDL proceedings, Judge Chhabria has previously determined that the Roundup litigation will be bifurcated, first addressing general causation about the link between the widely used weedkiller and non-Hodgkins lymphoma, as well as other forms of cancer, before addressing case-specific issues about whether Roundup caused cancer for each individual plaintiff.
Following resolution of any motions to dismiss based on general causation, if a Roundup lawsuit settlements or another resolution for the litigation is not reached during the first phase of discovery, it is expected that Judge Chhabria will establish a bellwether process, where a small group of cases will be prepared for early trial dates to help gauge how juries may respond to certain evidence and testimony that is likely to be repeated throughout the lawsuits.
"*" indicates required fields