Roundup Wrongful Death Case Blames Weed Killer For Causing Non-Hodgkins Lymphoma
January 09, 2018
By: Irvin Jackson
Monsanto faces a wrongful death lawsuit filed by a Georgia widow, who claims that exposure to the weed killer Roundup caused her husband to develop a fatal case of non-Hodgkin's lymphoma. 
The complaint (PDF) was filed by Linda Rodgers late last month in the U.S. District Court for the Eastern District of Missouri, on behalf of herself and her husband, Francis Rodgers, who was diagnosed with non-Hodgkins lymphoma in 2015, following more than 15 years of regularly spraying the popular weedkiller.
According to the complaint, Roundup and it's active ingredient, glyphosate were the cause of Francis Rodgers' cancer, indicating that the weedkiller is defective, dangerous to human health and unfit to be on the market.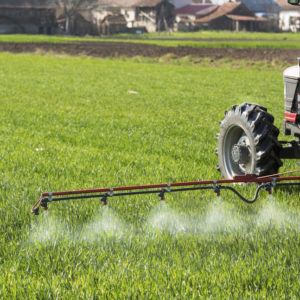 Francis Rodgers began using Roundup in 1990, and his wife indicates that he sprayed it on a regular basis until his death. Although he was diagnosed with non-Hodgkin's lymphoma in 2015, Linda Ridgers indicates that they were unaware that Roundup was associated with an increased risk of cancer.
On the other hand, Rodgers maintains that Monsanto knew it was putting farmers, agricultural workers, gardeners and other consumers at risk, yet failed to provide adequate warnings and intentionally misled the public.
"Because of the fraudulent acts of concealment of wrongdoing by Defendant, Plaintiff could not have reasonably discovered the wrongdoing at any time prior," the lawsuit notes. "Also, the economics of this fraud should be considered. Defendant had the ability to and did spend enormous amounts of money in furtherance of its purpose of marketing, promoting and/or distributing a profitable herbicide, notwithstanding the known or reasonably known risks. Plaintiff and medical professionals could not have afforded and could not have possibly conducted studies to determine the nature, extent, and identity of related health risks, and were forced to rely on only the Defendant representations."
Concerns about the link between Roundup and non-Hodgkin's lymphoma first arose in 2015, when the World Health Organization's International Agency for Research on Cancer (IARC) classified glyphosate contained in Roundup as a probable human carcinogen.
The move sparked world-wide concerns about why Monsanto failed to provide warnings and recommend safety precautions for users of Roundup, and resulted in hundreds of similar Roundup lawsuits filed in courts nationwide.
As part of the on-going litigation, internal Monsanto documents produced during the discovery process have suggested that the manufacture knew about the cancer risks associated with the Roundup active ingredients for years.
Rodgers' claim will be consolidated with other cases pending in the federal court system, which are centralized as part of a multidistrict litigation (MDL) pending before U.S. District Judge Vince Chhabria in the Northern District of California. The litigation has been consolidated for pretrial proceedings to reduce duplicative discovery into common issues, prevent conflicting rulings from different Courts and to serve the convenience of the parties, witnesses and the judicial system.
As part of the coordinated MDL proceedings, Judge Chhabria has previously determined that the Roundup litigation will be bifurcated, first addressing general causation about the link between the widely used weedkiller and non-Hodgkins lymphoma, as well as other forms of cancer, before addressing case-specific issues about whether Roundup caused cancer for each individual plaintiff.
Following resolution of any motions to dismiss based on general causation, if a Roundup cancer settlements or another resolution for the litigation is not reached during the first phase of discovery, it is expected that Judge Chhabria will establish a bellwether process, where a small group of cases will be prepared for early trial dates to help gauge how juries may respond to certain evidence and testimony that is likely to be repeated throughout the lawsuits.
"*" indicates required fields