Mother Files Similac Lawsuit Over Infant Death from NEC Complications
April 22, 2022
By: Irvin Jackson
A New Jersey mother has filed a Similac lawsuit, claiming the cow's milk-based infant formula led to the death of her premature daughter, who suffered necrotizing enterocolitis (NEC) complications while still in the NICU.
The complaint (PDF) was filed by Nicole Cresap in the U.S. District Court for the Northern District of Illinois on April 15, pursuing claims against Abbott Laboratories for failing to warn families and the medical community about the potential side effects from Similac among premature infants.
NEC is a devastating intestinal disease, where the wall of the intestine is invaded by bacteria, leading to destruction of the bowel and often requiring emergency surgery while the baby is still in the neonatal intensive care unit (NICU). This condition often results in the need for emergency surgery to remove portions of the intestines, or leads to premature infant death. However, the lawsuit alleges that it could have been avoided by use of breast milk, donor milk or other alternative formulas that are not derived from cow's milk.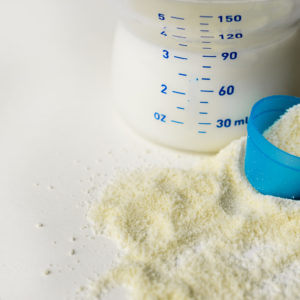 According to Cresap's wrongful death lawsuit, her daughter was born in December 2021, and died a short time later due to NEC complications.
"Necrotizine enterocolitis is a deadly disease that largely affects low-birth-weight babies who are fed cow's-milk-based formula or products," the lawsuit states. "Kennedy Hayes, an extremely prematurely born, low-birth-weight baby, was fed Similac formula, Similac 'human milk fortifier,' and Abbott Nutrition 'liquid protein fortifier' and developed NEC as a result."
A growing body of research published in recent years has found that the risk of a premature newborn NEC diagnosis is substantially greater after being fed cow's milk formula products, such as Similac or Enfamil, compared to babies who receive breast milk alone. However, Cresap alleges that the manufacturers failed to adequately warn families and medical providers about the risk.
Cresap's lawsuit joins a number of others filed nationwide pursuing a NEC lawsuit against Abbott Laboratories, alleging that the company withheld warnings from parents for decades.
Earlie this month, the U.S. Judicial Panel on Multidistrict Litigation consolidated all Similac lawsuits and Enfamil lawsuits in the Northern District of Illinoism under U.S. District Judge Rebecaa R. Pallmeyer for coordinated pretrial proceedings.
"*" indicates required fields