Coca-Cola Faces Class Action Lawsuit Over High PFAS Levels in Simply Orange Juice Products
January 27, 2023
By: Russell Maas
According to allegations raised in a recently filed class action lawsuit, the Coca-Cola Company falsely advertises its "Simply Tropical" juice products as all natural, when in fact that juice products contain high levels of per- and polyfluoroalkyl substances (PFAS), which carry a number of known health side effects.
The complaint (PDF) was filed by Joseph Lurenz in the United States District Court Southern District of New York late last month, claiming The Coca-Cola Company and The Simply Orange Juice Company fail to disclose that its Simply Tropical orange juice contains dangerous levels of harmful PFAS chemicals.
Growing Lawsuits Over PFAS Exposure
PFAS include a group of more than 9,000 man-made chemicals which have been widely used for decades, to resist grease, oil and water. They are commonly referred to as "forever chemicals", since they persist in the environment and human body, building up over time and increasing the risk of various cancers, liver damage, thyroid disease, decreased fertility, high cholesterol, obesity, hormone suppression, and other injuries.
While the toxic chemicals are used in a variety of products, ranging from non-stick pans to food packaging, PFAS water contamination has been identified in communities nationwide, due to large volumes released into the environment during firefighting training and response exercises involving aqueous film-forming foams (AFFFs).
Due to a failure to disclose the health risks of PFAS exposure, hundreds of firefighter cancer lawsuits are currently being pursued against various companies involved in the manufacturing and sale of the chemicals. In addition, PFAS water contamination lawsuits are being pursued by individuals diagnosed with cancer or ulcerative colitis after drinking tap water from certain areas, particularly near military bases or other firefighting training locations.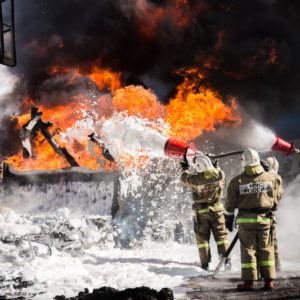 Over the past year, a growing number of consumer class action lawsuits have also been filed over high levels of PFAS in a wide variety of products, including cosmetics, McDonald's wrappers and other food containers.
Simply Tropical Orange Juice Class Action Lawsuit
The Coca-Cola class action lawsuit filed this month alleges the manufacturer intentionally misrepresent and falsely advertise their Simply Tropical juice products as safe, using the claims "All Natural" and "healthy", despite containing the toxic synthetic chemicals, which by definition are not natural, nor healthy.
Lurenz states the Coca-Cola Company, being the large global name that it is, knows the importance of ensuring the product labels are factual for consumers to make informed decisions when choosing healthy products. Yet defendants have intentionally misled customers about the synthetic chemicals found in Simply Tropic juice.
While the specific levels of PFAS found in Simply Tropic juice were not detailed in the complaint, Lurenz states that he had an accredited and independent third-party laboratory test Simply Tropical juice products, which confirmed the presence of PFAS.
Specifically, the testing identified "material levels" of perfluorooctanoic acid ("PFOA") and perfluorooctanesulfonic acid, in amounts more than 100 times the U.S. Environmental Protection Agency (EPA) recommended levels in drinking water.
PFOS and PFOA are two of the most well-studied and well documented types of PFAS chemicals. Their exposure has been linked to adverse effects on the immune system, the cardiovascular system, human development, and appear to increase the risk of cancer.
"Thus, Defendant's Product exposes hundreds of thousands of unsuspecting consumers, many of whom are children, to toxic synthetic chemicals at levels far beyond what the EPA deems safe, in direct contradiction to their uniform representations", Lurenz said in the complaint.
The lawsuits presents claims of fraud, constructive fraud and unjust enrichment, among others, seeking to represent all similarly situated class members.
Carlton

March 15, 2023 at 7:16 pm

This is another way the rich get richer with their lies or cover ups Just no transparency. I've been drinking simply orange for over 15 years. I just poured out a container of this poison after I heard. I'm all in on this lawsuit.

Jahlini

February 10, 2023 at 12:43 pm

I'm appalled at this breaking news. . I've been drinking simply tropical for years along with my kids.. Now I am concerned about my family health after consuming this cancer carcinogenic drink.. Im ready to sue today..

Beverly

January 28, 2023 at 6:46 pm

I kp gaining weight & couldn't get pregnant wen I tried. Maybe, I'm learning, because of steadily drinking this juice.

Michael

January 28, 2023 at 4:47 pm

I'm wondering whether the PFAs are a part of the product or the packaging. If the plastic packaging, they might test just fine at the point of origin but not after sitting in warehouses, on grocery shelves or in consumer refrigerators. This could be a case where the name with most money gets sued instead of the most culpable party.
"*" indicates required fields