"Polluter Pays" Legislation May Force Companies to Finance PFAS Contamination Cleanup in Several States
June 28, 2022
By: Irvin Jackson
Amid both growing concerns about water contamination in communities nationwide from per- and polyfluoroalkyl substances (PFAS), which have been widely used for decades in firefighting foam and other materials, several states are considering new legislation that would force polluters to pay clean up costs associated with removing the toxic chemicals out of water supplies and contaminated soil.
Maine, New Hampshire, New York, North Carolina and Vermont are all considering or in the process of passing so-called "polluter pays" legislation, according to a recent report by Bloomberg Law (subscription required), seeking to force chemical manufacturers and other companies to foot the bill for PFAS contamination cleanup costs, with varying degrees of success.
PFAS Water Contamination Recognized in Communities Nationwide
PFAS were first introduced into the manufacturing industry in the 1940's, because of their ability to resist heat, grease, stains, and water. However, they are known to persist in the environment and build up in the body, since they do not break down, and have been linked to a myriad of adverse health effects.
In recent years, it has been confirmed that drinking water supplies in many communities are contaminated with PFAS chemicals, particularly around chemical manufacturing plants, military bases, airports and other firefighter training locations where large volumes of the chemicals were released into the environment from aqueous film-forming foam (AFFF) used to combat fuel-based fires.
As a result, a number of different chemical manufacturers now face firefighting foam PFAS lawsuits and PFAS water contamination lawsuits brought by individuals residing in areas with known high levels of contamination from the use of the foam during training exercises or routine chemical dumping.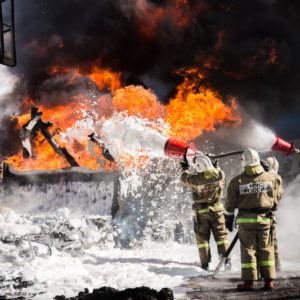 These manufacturers are also facing increasing ire from state governments, who are often left with the bill of cleaning PFAS and other contaminants out of soil and water, which pose serious health risks to the community, as well as lower property values and thus tax revenues. It is also hard to attract new businesses and development to contaminated sites.
One of the most recent states to act is Vermont. On April 21, Governor Phil Scott signed bill S. 113, which will require PFAS polluters to pay for medical monitoring, specifically focused on contamination and PFAS exposures linked to Saint-Gobain Performance Plastics.
The bill requires the company, and any other polluter found liable, to pay for medical monitoring for those who can prove they were exposed to toxic chemicals due to the polluters actions. The bill had been vetoed in the past until the latest iteration included a test to determine whether the polluter was legally liable.
The test was created by a federal judge who had overseen a class action lawsuit against Saint-Gobain over the contamination at its Bennington, Vermont facility.
Saint-Gobain's actions were also behind a similar bill in New Hampshire, calling for it to pay for new filtration systems in two wells contaminated by PFAS. That bill is under consideration and not likely to move forward in this legislative session, according to Bloomberg.
Not every state is so successful, however, North Carolina lawmakers are trying to pass H.B. 1095, which would require polluters to pay for water treatment systems if they can be linked to PFAS contamination exceeding 10 parts per trillion (ppt) per individual PFAS compound, or exceeding 70 ppt in total. Some chemicals contain multiple PFAS compounds, which can have a varying amount of toxicity.
However, the bill has met opposition from business and industry lobbyists despite bipartisan support. Opponents claim the bill would drive away business and result in increased manufacturing costs.
PFAS Health Concerns
Earlier this month, the U.S. Environmental Protection Agency announced new lifetime health advisories for several PFAS compounds, indicating the health risks began at levels so low they could not be reliably detected with modern technology.
The move is part of a strategic PFAS roadmap the EPA is following to address drinking water PFAS contamination that has effected communities nationwide, especially around military bases and airports, where large volumes of the chemicals used during firefighting training exercises and entered the ground water.
EPA officials say they are planning to propose a PFAS national drinking water regulation in the fall.
"*" indicates required fields