EPA Warns PFAS in Drinking Water Causes Health Risks Even At Low Levels
June 16, 2022
By: Irvin Jackson
Federal regulators have issued new drinking water health advisories, which indicate there may be serious health risks from even low levels of per- and polyfluoroalkyl substances (PFAS) in drinking water, raising serious concerns about widespread contamination caused by the toxic chemicals commonly found in a variety of products, from firefighting foam to food packaging.
The U.S. Environmental Protection Agency (EPA) issued a press release on Wednesday, announcing four lifetime health advisories for PFAS chemicals. The agency also announced it will provide $1 billion in grant funding, which states and territories can apply for in order to address PFAS drinking water contamination, particularly in small or disadvantaged communities.
"People on the front-lines of PFAS contamination have suffered for far too long," EPA Administrator Michael S. Regan said in the press release. "That's why EPA is taking aggressive action as part of a whole-of-government approach to prevent these chemicals from entering the environment and to help protect concerned families from this pervasive challenge."
The move comes amid concerns raised in a growing number of PFAS drinking water lawsuits, which recent studies have linked to a myriad of adverse side effects, including autism, ulcerative colitis, liver damage, thyroid disease, decreased fertility, high cholesterol, obesity, hormone suppression, and cancer.
Lawsuits over PFAS in Drinking Water
Were you or a loved one diagnosed with cancer or ulcerative colitis that may have been the result of PFAS drinking water contamination?
CONTACT A LAWYER
The four lifetime PFAS drinking water advisories (PDF), which will soon be published in the federal register, include perfluorooctanoic acid (PFOA), perfluorooctane sulfonic acid (PFOS), perfluorobutane sulfonic acid and its potassium salt (PFBS), and hexafluoropropylene oxide (HFPO) dimer acid and its ammonium salt, collectively known as GenX chemicals.
PFOA and PFOS are among the most well-studied and well-known PFAS chemicals. The EPA now believes "negative health effects" could occur with concentrations in water at or near zero, and below the EPA's ability to detect at this time. In response, the agency has set a health advisory level of .004 parts per trillion (ppt) for PFOA and 0.02 ppt for PFOS. It also set a 10 ppt advisory level for GenX chemicals and a 2,000 ppt level for PFBS.
The new levels for PFOA and PFOS in drinking water represents an update from levels set by the EPA in 2016. The levels for PFBS and GenX chemicals are the first time health advisory levels have been set for those chemicals.
Drinking Water PFAS Contamination Concerns
The move is part of a strategic PFAS roadmap the EPA is following to address drinking water PFAS contamination that has effected communities nationwide, especially around military bases and airports, where large volumes of the chemicals used during firefighting training exercises and entered the ground water.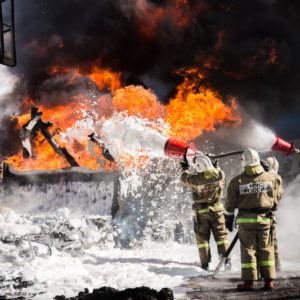 The agency has now included more stringent reporting requirements for corporations and manufacturers of PFAS chemicals and plans to further research the thousands of PFAS compounds; many of which may carry unknown health risks.
The EPA is planning to propose a PFAS national drinking water regulation in the fall, the press release indicates.
PFAS were first introduced into the manufacturing industry in the 1940's and were popularly used because of their ability to resist heat, grease, stains, and water. However, PFAS chemicals gained the nickname "forever chemicals" due to how they persist and build up in the environment.
One of the primary uses of PFAS chemicals has been from aqueous film-forming foams (AFFF) commonly used by the military and firefighting organizations throughout the country. Currently, 3M Company and other chemical manufacturers are facing a growing number of firefighter cancer lawsuits seeking financial compensation and settlement benefits for injuries which may have been avoided if warnings and safety recommendations had been provided about the harmful long term side effects of PFAS exposure.
"*" indicates required fields