Cases of Ovarian Cancer Linked To Talcum Powder Inhalation: Study
January 06, 2020
By: Irvin Jackson
In recent years, thousands of lawsuits have been filed by women diagnosed with ovarian cancer from talcum powder, alleging that Johnson & Johnson failed to adequately warn women about the risks associated with dusting their bodies with Johnson's Baby Powder, Shower-to-Shower and other products. While most prior concerns have focused on applying talc around the genitals, the findings of a new study suggest that inhaling the powder may also increase the cancer risk.
In findings published late last month in the Journal of Occupational and Environmental Medicine, researchers found talc in the tissues of all of the women they tested with serous ovarian cancer, indicating that inhaled asbestos fibers were also found in most of the cases.
Researchers conducted asbestos exposure assessments during talc application for 10 women with serous ovarian cancer, and also analyzed surgical tissues and talc containers for asbestos.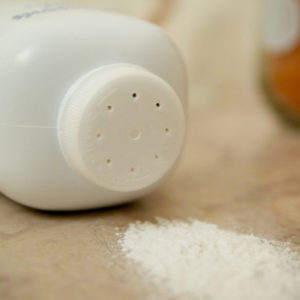 According to their findings, talc was found in all 10 cases. In addition, anthrphyllite asbestos was detected in eight of the 10 cases. The researchers found that the asbestos fibers they found in cosmetic talcum powder products matched those found in the women's tissues, and estimated an inhaled asbestos dose range of 0.38 to 5.18 fiber years.
"We provide evidence that the inhaled dose of asbestos/fibrous talc from 'cosmetic' talc use causes ovarian cancer," the researchers concluded. "The unique combination of the types of asbestiform minerals detected in cancerous tissue and 'cosmetic' talc is a fingerprint for exposure to asbestos-containing talc."
Talcum Powder Cancer Litigation
The findings come as Johnson & Johnson attempts to defend more than 14,700 Baby Powder lawsuits and Shower-to-Shower lawsuits pending in the federal court system, each involving similar allegations that the manufacturer failed to warn about the link between talc powder and ovarian cancer.
Given common questions of fact and law raised in the complaints, the litigation has been centralized before U.S. District Judge Freda L. Wolfson in the District of New Jersey, for coordinated discovery and pretrial proceedings.
Following a series of hearings earlier this year, Judge Wolfson is currently weighing challenges filed by Johnson & Johnson over the admissibility of expert witness testimony linking talcum powder to ovarian cancer, determining whether the findings are sufficiently reliable under the federal standard. Some of those witnesses were involved in this latest study.
Johnson & Johnson has rested much of their legal defense on the hope that plaintiffs' expert witnesses will be excluded under the federal standard, after a number of state court juries have previously hit the company with massive damage awards after being presented with the evidence at trial.
If the manufacturer is unable to disqualify plaintiffs expert witnesses in the federal court system, it is expected that Judge Wolfson will schedule a series of "bellwether" cases for early trial dates, to gauge how juries respond to certain evidence and testimony that is presented in the federal litigation.
While Johnson & Johnson has maintained that they intend to defend the claims at trial, there will be substantial pressure on the manufacturer to consider negotiating talcum powder cancer settlements for women diagnosed with ovarian cancer, or it could face massive liability from individual juries at trial in U.S. District Courts nationwide in the coming years.
"*" indicates required fields