Study Questions Link Between Talcum Powder And Ovarian Cancer
January 08, 2020
By: Irvin Jackson
Amid continuing concerns about the link between talcum powder and ovarian cancer, following a number of studies that have suggested regular use of talc-based powders around the genitals may cause cancer, a recently published study raises questions about those findings.
In a report published this week in the Journal of the American Medical Association (JAMA), researchers from a number of cancer institutes indicate that they were unable to find a statistically significant increase in the ovarian cancer risk among women who applied talcum powder products to their genitals for feminine hygiene.
The research, which contradicts a number of other studies published in recent years, looked at data on more than 250,000 women who self-reported talcum powder use on the genital area, ranging from no use ever to long-term use, with a median age of 57.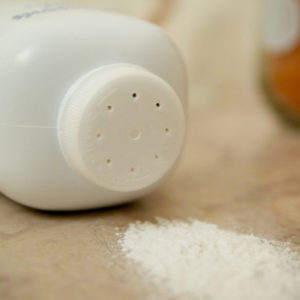 According to the findings, 10% of the women reported long-term use, while 22% reported using talc frequently. Over a median of 11.2 years of follow up, researchers found 61 cases of ovarian cancer per 100,000 person-years among talcum powder users; compared with 55 cases per 100,000 person-years among never users, resulting in an 8% increased risk, which researchers said was statistically insignificant.
"In this analysis of pooled data from women in 4 US cohorts, there was not a statistically significant association between the use of powder in the genital area and incident ovarian cancer," the researchers concluded. "However, the study may have been underpowered to identify a small increase in risk."
The findings come as Johnson & Johnson faces more than 14,700 Baby Powder lawsuits and Shower-to-Shower lawsuits pending in the federal court system, each involving similar allegations that the manufacturer failed to warn about the link between talc powder and ovarian cancer.
Plaintiffs allege that the manufacturer knew or should have known about the risk for decades, and withheld information from consumers about the risks associated with dusting their bodies with talcum powder. The claims are based on a number of independent studies that have found that women do face a risk of ovarian cancer from talcum powder.
Just last month, a study published in the Journal of Occupational and Environmental Medicine found talc in the tissues of all of the women they tested with serous ovarian cancer, indicating that inhaled asbestos fibers contained in the powder were also found in most cases, and that those fibers matched those found in samples of cosmetic talcum powder products.
Johnson & Johnson was forced to issue a Baby Powder recall that impacted tens of thousands of bottles on October 18, after the FDA detected sub-trace levels of chrysotile asbestos, contradicting years of claims by Johnson & Johnson that their products do not contain the cancer-causing fibers.
Talcum Powder Litigation
Given common questions of fact and law raised in the complaints, the talcum powder litigation has been centralized before U.S. District Judge Freda L. Wolfson in the District of New Jersey, for coordinated discovery and pretrial proceedings.
Following a series of hearings earlier this year, Judge Wolfson is currently weighing challenges filed by Johnson & Johnson over the admissibility of expert witness testimony linking talcum powder to ovarian cancer, determining whether the findings are sufficiently reliable under the federal standard. Some of those witnesses were involved in this latest study.
Johnson & Johnson has rested much of their legal defense on the hope that plaintiffs' expert witnesses will be excluded under the federal standard, after a number of state court juries have previously hit the company with massive damage awards after being presented with the evidence at trial.
If the manufacturer is unable to disqualify plaintiffs expert witnesses in the federal court system, it is expected that Judge Wolfson will schedule a series of "bellwether" cases for early trial dates, to gauge how juries respond to certain evidence and testimony that is presented in the federal litigation.
While Johnson & Johnson has maintained that they intend to defend the claims at trial, there will be substantial pressure on the manufacturer to consider negotiating talcum powder cancer settlements for women diagnosed with ovarian cancer, or it could face massive liability from individual juries at trial in U.S. District Courts nationwide in the coming years.
"*" indicates required fields