Talc Powder Wrongful Death Lawsuit Claims J&J Products Led To Fatal Ovarian Cancer
August 31, 2018
By: Irvin Jackson
The husband of a New Jersey woman who died from ovarian cancer following years of using Johnson's Baby Powder and Shower-to-Shower products has filed a lawsuit against Johnson & Johnson, alleging that exposure to talc in the products caused her wrongful death. 
The complaint (PDF) was filed by Mark Vetrini in Delaware Superior Court on August 24, presenting claims on behalf of himself and the estate of his late wife, Vanessa Vetrini. The wrongful death lawsuit names Johnson & Johnson, Imerys Talc, Rio Tinto Minerals, Inc. and Valeant Pharmaceuticals as defendants.
Vanessa Vetrini used Baby Powder and Shower-to-Shower to dust her perineum for feminine hygiene purposes for decades, according to the lawsuit. She was diagnosed with ovarian cancer in January 2012, and died on June 5, 2016, at the age of only 42. However, the lawsuit indicates that the manufacturers knew for decades about the link between talcum powder and ovarian cancer, but failed to adequately warn women, and even encouraged them to use the product unsafely.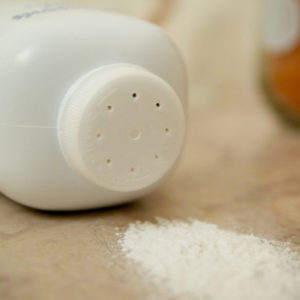 "All of the Defendants have been or should have been aware for nearly forty (40) years of independent scientific studies linking the use of their products to the increased risk of ovarian cancer in women when used in the perineal area," the lawsuit states. "Despite this overwhelming body of evidence all of the Defendants have failed to inform their consumers of this known hazard."
The case joins thousands of other Baby Powder lawsuits and Shower-to-Shower lawsuits filed against Johnson & Johnson by women and their families nationwide.
Over the past few years, a number of those cases have gone before state court juries, with many resulting in multi-million dollar damage awards as a result of Johnson & Johnson's failure to adequately warn about the risks associated with their products. However, the manufacturer is pursuing appeals in each of those cases, and has maintained that it does not intend to offer talcum powder settlements for women diagnosed with ovarian cancer.
Vetrini's lawsuit is filed in Delaware state court, but thousands of other claims are also  pending in Missouri state court, as well as the federal court system, where they are centralized before U.S. District Judge Freda Wolfson in the District of New Jersey, as part of a multidistrict litigation (MDL). Given similar questions of fact and law, the cases have been are being coordinated to reduce duplicative discovery into common issues, avoid conflicting pretrial rulings from different Courts and serve the convenience of the parties, witnesses and judicial system.
Following discovery and any bellwether trials held in the MDL, if Johnson & Johnson fails to resolve the litigation, they could face individual trials in courts nationwide. Given the size of several early jury verdicts, this could result in staggering liability for the company.
Kitty

August 20, 2019 at 10:39 pm

About 75% of Americans eat bread. Therefore 75% of people who were in auto accidents ate bread. We don't think bread causes accidents. 58 % of american women used talc of some kind at some time. Therefore 58% of women who have ovarian cancer used talc. Statistics do not prove cause and effect.
"*" indicates required fields