Lawsuit Points to "Overwhelming" Evidence of Link Between Talcum Baby Powder and Ovarian Cancer
November 28, 2016
By: Irvin Jackson
According to allegations raised in a product liability lawsuit recently filed against Johnson & Johnson, the manufacturer has ignored years of evidence that talcum baby powder increases the risk of ovarian cancer.
The complaint (PDF) was filed by Alme Kennedy in the U.S. District Court for the Northern District of Georgia on November 18, indicating that years of using Johnson & Johnson's talcum-based Baby Powder and Shower-to-Shower for feminine hygiene caused his wife, Naomi, to develop ovarian cancer and ultimately die from the disease at the age of 68.
Although talcum powder is most commonly associated with use among infants to prevent diaper rash and maintain smooth skin, the products are widely used among adult women and Johnson & Johnson has promoted such use to maintain "personal freshness." Given the popularity of Johnson's Baby Powder among adult women, the company introduced and marketed Shower-to-Shower body powder for this specific purpose.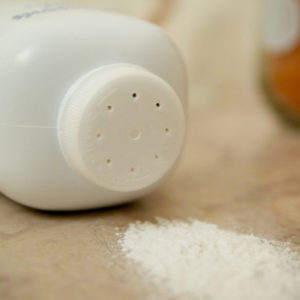 Kennedy's lawsuit maintains that "overwhelming scientific and medical evidence has established a causal link between talcum baby powder and ovarian cancer," indicating that as early as 1961, research showed that talc can move from the exterior of the genital area to the ovaries of women. The complaint also points to other studies that have found talc particles "deeply embedded" in ovarian tumors, and that there is a statistically significant increased risk of ovarian cancer following genital talc use, highlighting decades of research on the link between ovarian cancer and talcum powder.
"Upon information and belief, as early as 1982, Defendants were acutely aware of the scientific evidence linking ovarian cancer and perineal use of talcum powder," according to the complaint, which points to a New York Times article in which the manufacturers admitted to being aware of a study that concluded women were three times more likely to develop ovarian cancer after daily use of talcum powder in the genital area.
The case joins more than 2,000 Johnson's Baby Powder lawsuits and Shower-to-Shower lawsuits have been filed nationwide by women and their families, raising nearly identical allegations that consumers were not adequately warned about the risk.
So far this year, at least three talcum baby powder ovarian cancer cases have gone to trial against Johnson & Johnson over the cancer risk associated with their popular products. Each of those trials resulted in a multi-million dollar damage award due to the failure to provide appropriate warnings for women.
The most recent verdict came last month, hitting Johnson & Johnson with $70 million in compensatory and punitive damages.
Kennedy's case will be consolidated with all other federal talcum powder lawsuits pending nationwide, which are centralized as part of an MDL, or multidistrict litigation, before U.S. District Judge Freda Wolfson in the District of New Jersey.
If talcum powder cancer settlements are not reached during the coordinated proceedings in the federal MDL, each case may ultimately be remanded back to the U.S. District Court where it was originally filed for a separate trial date in the future.
"*" indicates required fields