Talcum Powder Dusting Resulted in Ovarian Cancer Diagnosis, Lawsuit Alleges
February 08, 2019
By: Irvin Jackson
A Virginia woman indicates that she developed ovarian cancer after dusting with talcum powder for more than 30 years, alleging in a recently filed lawsuit that Johnson & Johnson and Imerys Talc America have known about the cancer risks for adult women, yet failed to provide any warnings.  
Rebecca Lichtenfels filed the complaint (PDF) in the U.S. District Court for the District of Columbia on January 31, indicating that regular use of the talc-based Johnson's Baby Powder and Shower-to-Shower Powder products in the perineal area were the direct and proximate cause of her cancer diagnosis.
Lichtenfels states that she first used the Johnson & Johnson talcum powder products to dust her body for feminine hygiene purposes in about January 1984, and continued the practice until November 2012, which was shortly after she was diagnosed with ovarian cancer.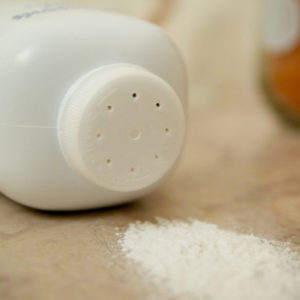 "At all relevant times, the Johnson & Johnson Defendants, through their labeling and marketing of the products, intentionally misrepresented material facts in order to mislead consumers that the products were safe for use in the female perineal area and induce consumers to purchase its products," the lawsuit states. "The Johnson & Johnson Defendants, through their labeling, advertisements, and public representations associated with the products, since the products' introduction into the marketplace, have stated that the products were safe for use all over the body, including the female perineal area."
Johnson & Johnson currently faces nearly 12,000 Johnson's Baby Powder lawsuits and Shower-to-Shower lawsuits pending in courts nationwide, each involving similar allegations that the manufacturer has failed to warn consumers for decades about the cancer risks associated with their talc-based products, including ovarian cancer and mesothelioma claims.
Last year, a trial involving 22 different women diagnosed with ovarian cancer resulted in a landmark $4.7 billion verdict awarded in Missouri state court, which the company is currently appealing.
Lichtenfel's case will be consolidated with other federal lawsuits, which are centralized before U.S. District Judge Freda Wolfson in the District of New Jersey, as part of a multidistrict litigation (MDL).
Given similar questions of fact and law, the cases have been are being coordinated to reduce duplicative discovery into common issues, avoid conflicting pretrial rulings from different Courts and serve the convenience of the parties, witnesses and judicial system.
Following discovery and any bellwether trials held in the MDL, if Johnson & Johnson fails to reach talcum powder settlements or otherwise resolve the litigation, the company could face individual trials in courts nationwide. Given the size of several early jury verdicts, this could result in staggering liability for the company.
"*" indicates required fields