Talcum Powder Exposure Led To Wife's Death, Husband's Lawsuit Alleges
March 02, 2018
By: Irvin Jackson
Johnson & Johnson faces a wrongful death lawsuit filed by a man who indicates that his wife developed a fatal case of ovarian cancer after years of talcum powder exposure, which the company promoted for years as a way for adult women to maintain "freshness" and "comfort". 
The lawsuit (PDF) was complaint was filed by Herbert Bouchard in the U.S. District Court for the District of Rhode Island on February 22, on behalf of himself and his late wife, Anitta Bouchard.
Brouchard indicates that his wife used Johnson & Johnson talcum powder products for more than 15 years, such as Johnson's Baby Powder and Shower-to-Shower. In December 2003, Anitta Bouchard was diagnosed with ovarian cancer, which caused her death less than three years later, according to the lawsuit.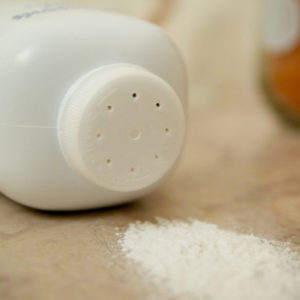 "Defendants knew of the adverse risks of using talc and talc-based body powders in the perineal area and ovarian cancer and had a duty to warn about the potential hazards associated with the use of the products," Bouchard's lawsuit states. "Defendants, though having knowledge of the increased risk of ovarian cancer associated with genital use of talc-based body powder, nevertheless actively marketed the safety of the product to users and failed to inform customers and end users of the products of a known catastrophic health hazard associated with the use of the products, particularly when used by women in the perineal area."
The complaint raises similar allegations against Johnson & Johnson, Imerys Talc America and Personal Care Products Council as several thousand over Baby Powder lawsuits and Shower-to-Shower lawsuits filed over the past few years, indicating that talc contained in the products may migrate through the vagina following regular and long-term use, causing the development of ovarian cancer.
Over the past year, a number of talcum powder ovarian cancer cases have gone before state court juries, with many resulting in multi-million dollar damage awards over Johnson & Johnson's failure to adequately warn about the risks associated with their products. However, the manufacturer is pursuing appeals in each of those cases, and has maintained that it does not intend to offer talcum powder settlements for women diagnosed with ovarian cancer.
Given similar questions of fact and law presented in other cases filed in U.S. District Courts nationwide, centralized pretrial proceedings have been established in the District of New Jersey, before U.S. District Judge Freda Wolfson. Known as a multidistrict litigation (MDL), the federal cases have been centralized to reduce duplicative discovery into common issues, avoid conflicting pretrial rulings from different Courts and serve the convenience of the parties, witnesses and judicial system.
Following coordinated discovery and any bellwether trials held in the MDL, if Johnson & Johnson fails to resolve the litigation, they could face individual trials in courts nationwide. Given the size of several early jury verdicts, this could result in staggering liability for the company.
"*" indicates required fields