Talcum Powder MDL Motion Sparks Disagreement Among All Parties
August 10, 2016
By: Austin Kirk
Following a recent motion filed to centralize all talcum powder ovarian cancer lawsuits before one judge in the federal court system, parties are split about whether the claims should be formally consolidated as part of a multidistrict litigation (MDL) and if so, where they should be transferred.
As a growing number of Johnson's Baby Powder lawsuits and Shower-to-Shower lawsuits continue to be filed in U.S. District Courts nationwide, a group of plaintiffs filed a motion last month with the U.S. Judicial Panel on Multidistrict Litigation (JPML), seeking to assign all complaints U.S. District Judge David Herndon in the Southern District of Illinois, for coordinated discovery and pretrial proceedings.
There are currently claims pending throughout the federal court system, each involving similar allegations that Johnson & Johnson and other defendants failed to adequately warn women about the ovarian cancer risks with talcum powder applied around the genitals.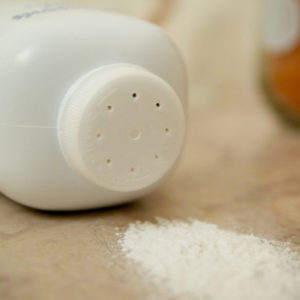 While talcum powder is most commonly associated with use to help prevent diaper rash and maintain smooth skin, Johnson & Johnson has promoted their Baby Powder and Shower-to-Shower products for decades as a general body powder among adult women, who were encouraged to use talcum powder after every shower and place it in their underwear to maintain "personal freshness."
Lawsuits allege that manufacturers failed to warn about the risk that talc contained in the powder may migrate through the vagina and cause the development of ovarian cancer, with many complaints indicating that evidence of talc was found in ovarian tumors following decades of women using the powder on a daily basis.
A motion was filed to establish a talcum powder MDL on July 15, with Plaintiff Tanashiska Lumas indicating that formal coordination is necessary in the federal court system to reduce duplicative discovery into common issues in the cases, avoid conflicting pretrial rulings from different courts and to serve the convenience of the parties, witnesses and the judicial system. She called for the cases to be centralized before Judge Herndon, who has previously presided over MDLs in other complex cases, including lawsuits over Yaz, Yasmin and related birth control pills, as well as Pradaxa lawsuits.
Over the past few weeks, many responses have been filed by interested parties, both supporting and opposing the motion.
In one response in opposition (PDF) filed this week by a plaintiff with a case pending in the Central District of California, the U.S. JPML is urged to reject the request to establish a talcum powder MDL, indicating that substantial discovery has already been completed in cases nationwide, and multiple cases have already gone to trial in state court, negating the need for formal coordination.
"The efficiencies generated by MDL treatment relate primarily to pretrial proceedings and discovery," argued plaintiff Mahnaz Khorrami. "However, those benefits are inconsequential here because the litigation as a whole has already proceeded efficiently in courts across the country without MDL treatment. This coordination can continue with any newly filed cases through various procedural tools available to the parties, without the need for centralization.
In another opposition response (PDF) filed last week by plaintiffs involved in a talcum powder class action lawsuit, the plaintiffs argue that it is not appropriate to group all cases together, and that they are too far along in the litigation process to benefit from an MDL.
"For example, the allegations and causes of action differ from case to case among the personal injury cases, and Plaintiffs' cases are class actions alleging consumer protection claims, not personal injury or wrongful death actions," the opposition motion states. "Finally, several of the cases were filed in 2014, …so they are at varying stages of litigation. Transfer and consolidation would likely be unworkable and provide little benefit."
Other plaintiffs have filed motions saying that they support consolidation, but disagree with Lumas' request that the cases be consolidated under Judge David Herndon in the Southern District of Illinois. One response in support (PDF), filed on August 8, argues that the Middle District of Georgia would be more appropriate, noting that there are four cases filed there already and that Judge Herndon is currently overseeing several MDLs for other litigation. Various other venues have also been proposed as more convenient forums if the cases are centralized for pretrial proceedings and a series of bellwether trials.
The main defendants involved in the talcum powder litigation, Johnson & Johnson, Imerys Talc America, which supplied the company with the talc used in its products, and the Personal Care Products Council (PCPC), each agree that consolidation is appropriate, but also disagree with having the cases coordinated before Judge Herndon.
Johnson & Johnson's response (PDF), filed on August 5, calls for consolidation to occur in either New Jersey, where it is headquartered, or in the Western District of Oklahoma. Imerys and PCPC agree, but note that they are only defendants in a few of the 18 cases filed so far, and believe they should have a limited role in the litigation and should be dismissed from some or all cases as defendants.
So far this year, at least two talcum powder ovarian cancer cases have already gone to trial at the state court level, with each case resulting in a multi-million dollar damage award after evidence was presented about Johnson & Johnson's failure to provide appropriate talcum powder warnings for women.
Additional state court trials are expected to go before juries in the coming months, but a growing number of complaints have been filed in U.S. District Courts nationwide recently. The motion to transfer indicates that of the 11 cases filed at the federal level, nine were filed this year and are in their earliest stages, making them ideal for consolidation.
Talcum Powder Cancer Risks
A number of studies have indicated that talcum powder can increase the risk of ovarian cancer when applied to a woman's genitals. At least one study even found particles of talc at the center of ovarian tumors.
Despite the findings, Johnson & Johnson has refused to provide warnings for women using their products about the link between talc and ovarian cancer, apparently doubling down on the decision to ignore the potential risk for decades.
Evidence presented at recent trials included company documents that suggested Johnson & Johnson was aware of the potential link between talcum powder and ovarian cancer since the 1970s. However, even as recently as 1992, some documents indicate that the company specifically targeted sales towards women who were high users of talcum powder, without ever warning them of the possible cancer risks.
If additional juries respond with similar verdicts after considering the evidence, Johnson & Johnson could face substantial liability if talcum powder ovarian cancer settlements are not reached to resolve individual claims brought by women and families throughout the U.S.
"*" indicates required fields