MDL Arguments for Lawsuits Over Talcum Powder Ovarian Cancer Problems Set for Next Month
August 23, 2016
By: Austin Kirk
As a growing number of talcum powder lawsuits continue to be filed on behalf of women nationwide who experienced problems with ovarian cancer, the U.S. Judicial Panel on Multidistrict Litigation (JPML) has scheduled oral arguments for late next month, to consider whether to centralize the cases before one judge for coordinated pretrial proceedings. 
A motion was filed last month by a group of plaintiffs, seeking to establish a federal talcum powder MDL, or multidistrict litigation, which would help reduce duplicative discovery into common issues in the cases, avoid contradictory rulings from different judges and serve the convenience of witnesses, the parties and the judicial system.
While parties involved in the cases have disagreed over whether the litigation should be consolidated and where it should be centralized, there are currently claims pending before different U.S. District Judges nationwide, and such coordinated pretrial proceedings are common in complex product liability lawsuits where a large number of individuals claim that they suffered the same or similar injuries after exposure to the same product.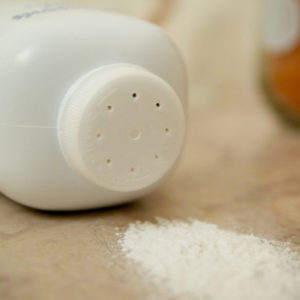 In a hearing order (PDF) issued earlier this month, the U.S. JPML announced that oral arguments on the motion will be heard on September 29 at the E. Barrett Prettyman United States Courthouse in Washington, D.C.
Talcum Powder Ovarian Cancer Litigation
According to allegations raised in Johnson's Baby Powder lawsuits and Shower-to-Shower lawsuits filed by women nationwide, Johnson & Johnson and other defendants knew or should have known about the risk of ovarian cancer problems from talcum powder applied around the genitals, yet failed to warn women and continued to market use of the products for feminine hygiene.
While talcum powder is most commonly associated with use to help prevent diaper rash and maintain smooth skin, Johnson & Johnson has encouraged women to apply the powder around their genitals or in their underwear after every shower to maintain "personal freshness." However, studies have suggested that such use may increase the risk of ovarian cancer, as talc particles contained in the powder may migrate through the vagina, uterus and fallopian tubes.
In many of the lawsuits over talcum powder ovarian cancer problems filed in courts nationwide, women allege that evidence of talc was found in their ovarian tumors.
So far this year, at least two talcum powder ovarian cancer cases have already gone to trial at the state court level, with each case resulting in a multi-million dollar damage award after evidence was presented about Johnson & Johnson's failure to provide appropriate talcum powder warnings for women.
Additional state court trials are expected to go before juries in the coming months, but a growing number of complaints have been filed in U.S. District Courts nationwide recently.
The motion to transfer indicates that at least 11 cases have been filed at the federal level, with nine filed so this year, each in the earliest stages of litigation, making them ideal for consolidation.
As talcum powder ovarian cancer lawyers continue to review and file cases for women and families nationwide, it is widely expected that hundreds, if not thousands, of claims will be included in the litigation.
"*" indicates required fields