Talcum Powder May Cause Mesothelioma in Women: Study
November 06, 2014
By: Irvin Jackson
A new study warns that side effects of talcum powder cosmetic products may include a potential risk of mesothelioma, a rare and deadly form of lung cancer caused by exposure to asbestos fibers. 
In the October issue of the International Journal of Occupational and Environmental Health, U.S. researchers indicate that testing revealed an un-named, popular brand of talcum powder may release inhalable asbestos fibers, which may have caused the death of at least one women due to mesothelioma.
Researchers suggest that the problem is likely not limited to one brand of talcum powder, which are marketed by several companies as baby powders or after-shower body powders.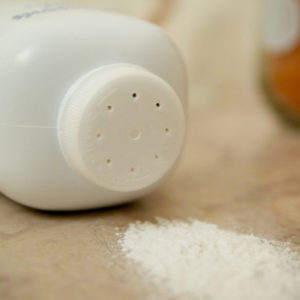 The study was initiated following reports that have linked talcum powder to the diagnosis of ovarian cancer and gynecological tumors.
Mesothelioma is a rare form of cancer, which is only known to be caused by exposure to asbestos and breathing asbestos fibers. It is often seen among individuals who previously worked with asbestos products, which were banned several decades ago due to the serious health risks.
The disease has a long latency period, often not being diagnosed for many years after the last exposure to asbestos. As a result, the cancer is usually at a very advanced stage when a diagnosis is made, resulting in a very short life-expectancy with mesothelioma.
The concerns about the link between talcum powder and mesothelioma stretch back decades. As far back as 1972, a Baltimore County Health Department Public Health Officer, Barry Castleman, requested that the FDA investigate asbestos in talcum powder.
In this latest study, researchers investigated talc using a transmission electron microscope and simulated bathroom exposures to see if they could detect asbestos releases from a talcum-based powder. They also investigated a case involving one woman who reportedly died of mesothelioma following years of talcum powder exposure.
"This brand of talcum powder contained asbestos and the application of talcum powder released inhalable asbestos fibers," the researchers report. "Lung and lymph node tissues removed at autopsy revealed pleural mesothelioma."
Talcum Powder Cancer Concerns
Given talcum powder's widespread use on infants to prevent diaper rash or sooth skin, the findings of the study raise potential concerns about the impact of breathing talc by infants.
Although talcum powder is most often associated with use on babies, it is widely used by adult women as a body powder for general hygiene purposes. Application of the body powder to the female genitals has been associated with a potential risk of ovarian cancer, as it may migrate through the vagina to the uterus, fallopian tubes and ovaries. Other studies have found evidence of talc within some ovarian tumors.
In June 2013, a study published in the medical journal Cancer Prevention Research indicated that women who used genital powder containing talc may face a 20% to 30% higher risk of ovarian cancer than those who do not.
While the overall risk remains small, women have expressed concerns about why further research has not been done by the manufacturers and why warnings have not been provided about the possible health risks.
The International Agency for Research on Cancer, which is part of the World Health Organization, has classified genital use of talc powder as a "possible carcinogen," and the American Cancer Society has indicated women concerned about the talcum powder cancer risk may want to avoid or limit use by considering cornstarch-based products.
Dozens of Johnson's Baby Powder lawsuits and Shower-to-Shower Body Powder lawsuits are now being pursued against Johnson & Johnson by women throughout the country. All of the claims contain allegations that the manufacturer knew or should have known that talcum powder could cause cancer when used as a feminine hygiene product, but failed to provide adequate warning.
In October 2013, a South Dakota jury found that sufficient evidence was presented during trial to establish a link between Johnson Shower-to-Shower body powder and ovarian cancer developed by a 56 year old woman who had used the product for several decades. During the trial, Harvard University's Daniel Cramer testified that he has been looking into the links between talc and ovarian cancer for 30 years, and suggested that talcum powder may cause 10,000 cases of ovarian cancer every year.
A Baby Powder class action lawsuit was filed in California in April, seeking to force Johnson & Johnson to properly inform consumers about the potential health risks, including a significantly increased risk of ovarian cancer. Plaintiffs in that case allege that the manufacturer has known for decades about the risk of ovarian cancer, yet the only warnings indicate that users should avoid contact with eyes and keep the powder away from the faces of children to avoid inhalation.
B VENTURA

November 10, 2014 at 3:28 am

Tanks of the information I have used powder for years and plenty of it not knowing that the infections were caused by the powder according to a female advise. Not using it any more.
"*" indicates required fields