Talcum Powder Ovarian Cancer Risks Pose Concerns Among Women
February 28, 2014
By: Irvin Jackson
Amid reports that suggest there may be a link between use of talcum powder and ovarian cancer, many women who have used the body powder on their genital areas have serious health concerns.
Some studies have suggested that use of talcum powder as a female hygiene product is associated with an increased risk of ovarian cancer, and reports have identified talc in ovarian tumors, suggesting that the powder may migrate through the vagina to the uterus, fallopian tubes and ovaries. However, health experts have been unable to provide firm guidance for women, since additional research is needed to determine whether there is a causal connection.
Talcum powder products, which are most commonly known as baby powder, are sold by a number of companies as a general body powder, including Johnson Shower-to-Shower and other brands. While talc has been used as a body powder for a long time, concerns have persisted for decades about the potential link with ovarian cancer. As early as 1971, researchers found talc embedded in 75% of all ovarian tumors studied and other reports have suggested that talc body powder applied to the genital areas may migrate through the body.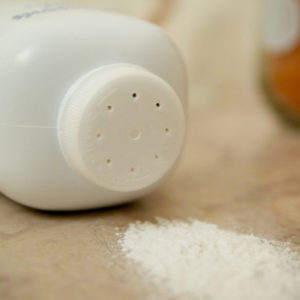 In June 2013, a study published in the medical journal Cancer Prevention Research indicated that women who used genital powder containing talc may face a 20% to 30% higher risk of ovarian cancer than those who do not. While the overall risk remains small, women have expressed concerns about why further research has not been done by the manufacturers and why warnings have not been provided about the possible health risks.
The International Agency for Research on Cancer, which is part of the World Health Organoization, has classified genital use of talc powder as a "possible carcinogen," and the American Cancer Society has indicated women concerned about the talcum powder cancer risk may want to avoid or limit use by considering cornstarch-based products.
In January, Cancer Research UK updated its webpage on Ovarian Cancer Risks and Causes, which indicates that there is increasing evidence that prolonged talcum powder use is linked to an ovarian cancer risk. The organization notes that there have been conflicting studies in the past on this issue.
"[F]urther studies have shown an increased risk of ovarian cancer in women regularly using talc, and the risk increased with heavier use of talc," the group writes. "So the evidence on this issue is inconsistent and research is continuing."
In October 2013, a South Dakota jury found that sufficient evidence was presented during trial to establish a link between Johnson Shower-to-Shower body powder and ovarian cancer developed by a 56 year old woman who had used the product for several decades. During the trial, Harvard University's Daniel Cramer testified that he has been looking into the links between talc and ovarian cancer for 30 years, and suggested that talcum powder may cause 10,000 cases of ovarian cancer every year.
As more information is learned about the potential risk, a growing number of women are now considering pursuing talcum powder ovarian cancer lawsuits against the manufacturers, alleging that they placed their desire for profits before consumer safety by withholding the potential risk information from consumers.
"*" indicates required fields