Wrongful Death Lawsuit Alleges Talcum Powder Ovarian Cancer Warnings Should Have Been Added by J&J
August 15, 2016
By: Irvin Jackson
According to allegations raised in a wrongful death lawsuit filed last week against Johnson & Johnson, an untold number of women may have avoided ovarian cancer from talcum powder if the manufacturer had placed warnings on the labels of Johnson's Baby Powder and Shower-to-Shower about the risk of applying the powder around the genitals. 
The complaint (PDF) was filed by Florence Kuntz in the U.S. District Court for the Northern District of Texas on August 12, indicating that regular use of talcum powder for feminine hygiene over a period of 23 years caused the death of her daughter, Janel Kuntz.
Kuntz indicates that her daughter was only 43 years old when she was diagnosed with ovarian cancer, after using Johnson & Johnson talcum powder between 1991 and 2014. The complaint indicates that her daughter had no other risk factors for the disease, alleging that Janel Kuntz may have avoided ovarian cancer if warnings had been provided by Johnson & Johnson.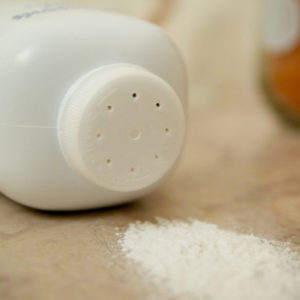 Like other Baby Powder Lawsuits and Shower-to-Shower lawsuits pending in courts nationwide, Kuntz indicates that the manufacturer knew about the ovarian cancer risk, yet withheld warnings from consumers.
"In 1982, the first epidemiologic study was performed on talc powder use in the female genital area. This study was conducted by Dr. Daniel Cramer and others. This study found a 92% increased risk in ovarian cancer with women who reported genital talc use," the complaint notes. "Shortly after this study was published, Dr. Bruce Semple of Johnson & Johnson came and visited Dr. Cramer about his study. Dr. Cramer advised Dr. Semple that Johnson & Johnson should place a warning on its talcum powders about the ovarian cancer risks so that women can make an informed decision about their health."
The warnings never happened, even though Kuntz and other plaintiffs claim data showing there was a risk actually date back to at least 1971.
Talcum Powder Ovarian Cancer Risks
While talcum powder is most commonly associated with use as a baby powder to help prevent diaper rash and maintain smooth skin, Johnson & Johnson has promoted their products for decades as a general body powder among adult women, who were encouraged to use talcum powder after every shower and place it in their underwear to maintain "personal freshness".
A number of studies have indicated that talcum powder can increase the risk of ovarian cancer when applied to a woman's genitals. At least one study even found particles of talc at the center of ovarian tumors.
So far this year, at least two talcum powder lawsuits filed against Johnson & Johnson have gone to trial, each resulting in multi-million dollar damage awards after the jury found that the manufacturer failed to adequately warn about the ovarian cancer risk.
Evidence presented at the trials included company documents that suggest Johnson & Johnson was aware of the potential link between talcum powder and ovarian cancer since the 1970s. However, even as recently as 1992, some documents indicate that the company specifically targeted sales towards women who were high users of talcum powder, without ever warning them of the possible cancer risks.
As a growing number of cases continue to be filed nationwide, if additional juries respond with similar verdicts after considering the evidence, Johnson & Johnson could may face years substantial jury verdicts, unless talcum powder ovarian cancer settlements are reached to resolve individual claims brought by women and families throughout the U.S.
"*" indicates required fields