Toxic PFAS Chemicals Often Found in Children's Clothing: Study
May 12, 2022
By: Russell Maas
A new study raises concerns that many children's clothes contain dangerous and potentially toxic per- and polyfluroalkyl substance (PFAS) chemicals, which are known to build up in the body and may pose long-term health risks.
Researchers with the Silent Spring Institute published a study in the journal Environmental Science & Technology on May 4, warning that many children's clothing, bedding and pillows that are marketed as "green" or "non-toxic," actually contain levels of PFAS that are not mentioned on the labeling.
PFAS were first introduced into the manufacturing industry in the 1940's, because of their ability to resist heat, grease, stains, and water. However, they are commonly referred to as "forever chemicals", since they persist in the environment and human body, building up over time and increasing the risk of a myriad of adverse health effects, including liver damage, thyroid disease, decreased fertility, high cholesterol, obesity, hormone suppression, and cancer.
PFAS are most known for their presence in aqueous film-forming foam (AFFF) used by firefighters since the 1960s during training exercises and in response to certain fuel based fires. In recent years, former firefighters and families living near military bases where PFAS chemicals contaminated water supplies have filed numerous firefighting foam lawsuits, which claim the chemical exposures caused testicular cancer, kidney cancer, pancreatic cancer and other injuries.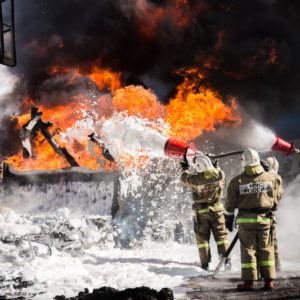 Researchers from Silent Spring, a UK-based public health advocacy, tested 93 child and adolescent products for fluorine, an indicator of PFAS, which included bedding, furnishings and clothing that were labeled as "green", "non-toxic" or "water-resistant".
According to the findings, 54 of the 93 children's products contained the PFAS, without any warning or labeling information to imply the presence of the toxic chemicals. Of the 54 children's products, 21 of them contained labels such as "eco" "green" or "non-toxic".
PFAS were found most commonly among children's clothing that was labeled as "water-resistant" or "stain-resistant", which the researchers suspected was due to the use of PFAS, which are known to be able to resist water and stains. Aside from clothing, PFAS were most frequently found in upholstered children's furniture and pillows.
The study raises concerns that while many manufacturers leave their labeling for "eco", "non-toxic" or "green" to third parties, these third party company's may not include PFAS in their criteria for labeling, leaving consumers unaware of the potential chemicals their children are being exposed to on a daily basis.
Lawsuits Over Toxic Chemicals Used In Firefighting Foam
Aqueous film-forming foams (AFFF) have been used to fight petroleum-based fires since the 1960s, by both military and civilian firefighting organizations. However, even since they first went into use, a growing body of scientific evidence has indicates that chemicals in the fire suppression foam may increase the risk of cancer, contaminate drinking water supplies, and persist in the environment and human body for years.
A number of studies warn about the link between cancer and firefighting foam, which contains PFAS compounds including perfluorooctanoic acid (PFOA) and perfluorooctane sulfonic acid (PFOS). These "forever chemicals" can bind to proteins in the blood, and accumulate in the body with each exposure to the fire foam, regardless of how small the level.
Following the discovery of the link between firefighting foam and cancer, a growing number of firefighter cancer lawsuits have been filed over long-term side effects caused by exposure to the chemicals. The lawsuits claim that regular exposure to the chemicals during fire training and response exercises caused the development of testicular cancer, kidney cancer, liver cancer, pancreatic cancer, prostate cancer, breast cancer and other injuries.
"*" indicates required fields