Blood Test Could Predict Severity of Traumatic Brain Injuries: Study
August 17, 2022
By: Russell Maas
New research suggests that blood samples taken from patients on the day of a traumatic brain injury could help predict the severity of long term damage from the head trauma, allowing medical professionals to better tailor the correct treatment.
In the September 2022 issue of Lancet Neurology, researchers claim to have established a link between serum biomarker values in blood tests and the six-month post-injury medical outcomes of patients who have suffered a severe brain injury.
Traumatic brain injuries (TBIs) can happen when a sudden movement of the head causes the brain to bounce or twist in the skull, injuring brain cells, breaking blood vessels, and creating chemical changes. The sudden movement can be caused by many different issues, including car accidents, sports concussions, falls, explosions or other blows to the head.
Concerns over the long-term side effects of brain injuries have increased over the past decade, following a number of studies that have highlighted risks individuals may face even following what is perceived as a minor head trauma or concussion.
Blood Testings After Head Trauma May Provide Key Data
In this new study, researchers from University of California in San Francisco, the University of Pennsylvania and the University of Michigan reviewed data from the 2,552 patients enrolled in the Transforming Research and Clinical Knowledge in Traumatic Brain Injury observational cohort study, which involved patients who were treated for brain injuries across 18 Level 1 trauma centers for injuries caused primarily by traffic accidents or falls.
Of the participants, data on 1,696 patients had blood tests done within 24 hours of the severe head injury event, as well as a CT scan result and an assessed outcome based on the Glasgow Outcome Scale-Extended (GOSE) at 6 months. The study indicates more than half of the patients suffered their severe head injuries from a car accident.
Researchers then measured levels of glial fibrillary acidic protein (GFAP) and ubiquitin carboxy-terminal hydrolase L1 (UCH-L1), which are proteins found in glial cells and neurons. These measurements were evaluated on the day of the head injury and then again at six months to determine whether an association between biomarker levels and medical outcomes existed.
According to the findings, those with elevated levels of GFAP and UCH-L1 on the day of their traumatic brain injury event were at the highest risk of being severely disabled. The study found many of these patients were left in a vegetative state by the six month marker and often required assistance to perform daily activities.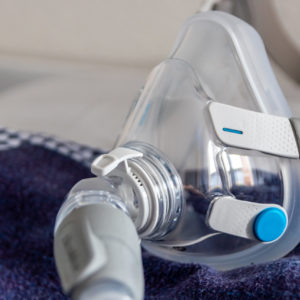 Did You Know?
Millions of Philips CPAP Machines Recalled
Philips DreamStation, CPAP and BiPAP machines sold in recent years may pose a risk of cancer, lung damage and other injuries.
Learn More
Patients in the top fifth percentile for highest GFAP and UCH-L1 levels were at the highest risk of death by six months, with most occurring within the first 30 days following the injury. Overall, researchers found the day-of-injury blood tests had a high probability of predicting death at six months, 87% for GFAP and 89% for UCH-L1.
The study, which was funded by the National Institute of Neurologic Disorders and Stroke, offers a more comprehensive approach for medical professionals to develop better prognostics and determine whether brain CT should be performed after traumatic brain injuries.
Severe Brain Injury Accidents
Traumatic brain injuries can have both serious physical and psychological-altering effects on a person and have been on the rise in recent years across the U.S. In fact, the U.S. Centers for Disease Control and Prevention (CDC) states that there were more than 223,000 brain injury related hospitalizations in 2019 alone. The agency states roughly 65,000 Americans died from TBI in 2020, equating to 178 head injury deaths annually.
While substantial efforts have been made in recent years to address the risks from sports concussions, this new study comes as traumatic brain injuries from falls are reportedly on the rise. The Center for Disease Control and Prevention (CDC) released a study warning deaths from head trauma after a fall increased by 17% from 2008 to 2018.
Slip and fall head injuries are the leading cause of traumatic brain injuries in the United States, accounting for nearly 40% of all cases. The National Institute for Occupational Safety (NIOSH) has found traumatic brain injuries at work contributed to 45% of all work related fatalities in recent years, with falls from a roof, ladder or scaffold accounting for nearly half of all reports.
Car accidents head injuries and large truck accidents are the second leading causes of trauma to the brain in the United States, making up nearly 20% of all TBI cases annually, according to the CDC. The risk of suffering a closed head injury or an open head injury is even greater when a pedestrian or cyclist is struck by a vehicle.
"*" indicates required fields