Tylenol Provides No Benefits for Back Pain: Study
July 28, 2014
By: Irvin Jackson
New research suggests that Tylenol and other popular pain medications containing acetaminophen may do nothing to alleviate back pain, despite the widespread use of the medication by millions of Americans. 
In a study published in the medical journal The Lancet, researchers from the University of Sydney found that patients were just as likely to respond to taking a placebo, or inert sugar pill, as they were to respond to the acetaminophen medications like Tylenol, which is sold overseas as paracetamol.
Researchers conducted a randomized trial involving 235 primary care centers in Sydney, Australia from November 11, 2009 through March 5, 2013. They selected patients with acute low back pain and gave them either acetaminophen three times per day for up to four weeks; allowed them just to take the medication as needed; or they gave them a placebo.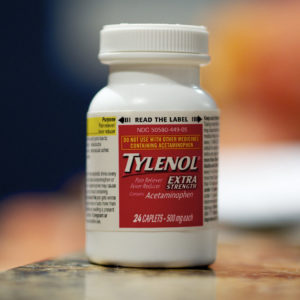 In neither case where individuals were given the active medication were they allowed to exceed the maximum recommended daily dose of 4,000 mg per day, due to the risk of liver damage from acetaminophen.
When comparing results between the groups, researchers saw no difference in how quickly the patients recovered from lower back surgery.
"Our findings suggest that regular or as-needed dosing with (acetaminophen) does not affect recovery time compared with placebo in low back pain, and question the universal endorsement of (acetaminophen) in this patient group," the researchers concluded.
Concerns Over Tylenol Liver Risks
The findings come as Johnson & Johnson faces a growing number of Tylenol lawsuits in the U.S., which have been filed on behalf of former users who allege that the drug maker created a misleading impression that acetaminophen was safe and effective, while withholding warnings about the potential risk of liver damage and liver failure.
Tylenol is one of the most widely used painkiller medications in the world, which has been used by millions of Americans. Although many users remain unaware of the potential risk, acetaminophen in the drug has been identified as a leading cause of liver injury in the U.S.
The FDA has indicated that acetaminophen may be responsible for more than 50,000 emergency room visits each year, including 25,000 hospitalizations and over 450 deaths annually. In recent years, efforts have been ramped up to bring the risk of acetaminophen overdose to the public's attention and to reduce the amount of liver injury cases linked to the popular analgesic, which is also found in other pain killers and a number of cold medications.
In 2011, Johnson & Johnson lowered the maximum recommended dosage on Tylenol and other acetaminophen-based products from 4,000 mg per day to 3,000 mg per day. However, the lawsuits allege that the drug maker has withheld important safety information from the public for decades, ignoring the narrow window between the recommended dosage for Extra Strength Tylenol and the risk of liver injury.
Amid the mounting lawsuits, the U.S. Judicial Panel on Multidistrict Litigation consolidated all cases filed throughout the federal court system in April 2013, centralizing the proceedings before U.S. District Judge Lawrence F. Stengel in the Eastern District of Pennsylvania. As part of the coordinated pretrial litigation, a small group of Tylenol liver damage cases are being prepared for early trial dates before Judge Stengel, which are expected to begin next year.
"*" indicates required fields