Side Effects of Roundup, Other Herbicides, May Increase Antibiotic Resistance: Study
November 21, 2017
By: Irvin Jackson
Amid ongoing debate worldwide about the safety of Roundup, a new study suggests that side effects of the weed killer, as well as other popular herbicides, may be contributing to the development of antibiotic resistance among some bacteria, resulting in difficult to treat "super bugs". 
In a study published last week in the scientific journal Microbiology, researchers from the University of Canterbury, in New Zealand, indicate that Roundup, dicamba and 2,4-D herbicides appear to promote antibiotic resistance in salmonella and E. coli bacterium.
Antibiotic resistance is a growing concern in the medical community and has been for many years. Usually associated with the overuse of antibiotics among humans and livestock, it occurs when a particular bacteria, usually an infectious agent, develops an immunity to commonly used antibiotics, making it harder to treat.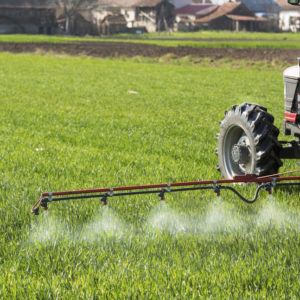 In the study, researchers exposed Salmonella enterica sv. Typhimurium and Escherichia coli to common co-formulants of formulations, and exposed salmonella specifically to the active ingredients of glyphosate, dicamba, and 2,4-D to determine which ingredients caused the development of antibiotic resistance. They also looked at whether the use of wetting agents made a difference, but found they did not.
According to the findings, it was the active ingredients themselves that induced the bacterium's adaptive response, and not co-formulants used with them in the pesticide products.
"Active ingredients induced changes in antibiotic responses similar to those caused by complete formulations," the researchers determined. "This occurred at or below recommended application concentrations."
In 2013, the CDC revealed antibiotic-resistant superbugs were increasing in the U.S. In 2016, the CDC released a report revealing one-in-seven hospital-acquired infections are antibiotic-resistant.
Drug-resistant antibiotics are a global concern, a British study estimates nearly 10 million deaths every year will be attributable to antibiotic resistant infections by the year 2050, unless drastic measures are taken.
Other research has shown doctor's overprescribing habits of antibiotics have contributed to the rise of antibiotic resistant drugs. Estimates reveal doctors offer antibiotics two-thirds of the time for antiviral infections that can't be treated with antibiotics.
Roundup Safety Concerns
The findings come as many health experts are raising concerns about the potential side effects of Roundup and other weed killers containing the active ingredient glyphosate, which has been linked to a potential risk of cancer.
Debate about the safety of the widely used products emerged in March 2015, when the World Health Organization's International Agency for Research on Cancer (IARC) declared that glyphosate used in Roundup and other weedkillers was a probable carcinogen.
The move has raised serious questions about why Monsanto failed to provide warnings and recommend safety precautions for users, and resulted in hundreds of Roundup lawsuits filed in courts nationwide by individuals who say they contracted non-Hodgkin's lymphoma and other forms of cancer following years of Roundup exposure.
Given the similar questions of fact and law presented in lawsuits filed throughout the federal court system, the U.S. Judicial Panel on Multidistrict Litigation (JPML) established consolidated pretrial proceedings for all federal Roundup cases in the American federal court system, centralizing the claims before U.S. District Judge Vince Chhabria in the Northern District of California to reduce duplicative discovery, prevent conflicting rulings and serve the convenience of the parties, witnesses and the courts.
As part of the coordinated MDL proceedings, Judge Chhabria has previously determined that the Roundup litigation will be bifurcated, first addressing general causation about the link between the widely used weedkiller and non-Hodgkins lymphoma during a hearing in December 2017, before addressing case-specific issues about whether Roundup caused cancer for each individual plaintiff.
Following resolution of any motions to dismiss based on general causation, if a Roundup settlement or other resolution for the litigation is not reached during the first phase of discovery, it is expected that Judge Chhabria will establish a bellwether process, where a small group of cases will be prepared for early trial dates to help gauge how juries may respond to certain evidence and testimony that is likely to be repeated throughout the lawsuits.
"*" indicates required fields