Wisconsin Residents Warned Not To Drink Public Water Over High Levels of PFAS
June 06, 2022
By: Russell Maas
As many residents across the nation have started filing water contamination lawsuits, a new report suggests that the drinking water in Wausau, Wisconsin is contaminated with high levels of toxic chemicals, known as per- and polyfluoroalkyl substances (PFAS), resulting in a warning for area residents to use an alternative water source for drinking.
Wisconsin's Department of Health Services sent a letter to the Wausau City Council on May 27, warning that "drinking unfiltered Wausau drinking water poses a health risk due to the PFAS levels measured." As a result, residents are being told to limit their exposure to PFAS in Wausau's drinking water by avoiding consumption.
The DHS letter, titled Review of PFAS contamination in Wausau Waterworks municipal system wells, reports the findings of an independent evaluation of municipal drinking water provided to Wausau residents from six separate wells, declaring all of the water sources as unsafe for consumption due to unsafe levels of PFAS contamination.
PFAS WATER CONTAMINATION LAWSUITS
Were you or a loved one diagnosed with testicular cancer, kidney cancer, prostate cancer, pancreatic cancer, breast cancer or ulcerative colitis after drinking PFAS contaminated water?
CONTACT A LAWYER
PFAS chemicals are used in a wide variety of products, yet the chemicals are projected to take thousands of years to degrade. Past studies have shown their ability to enter and stay in the environment and human body through the air, dust, food, soil, and water. The chemicals primarily settle into the blood, kidney and liver, and have been found to contaminate waters sources near military bases, airports and other locations where the anti-fire foam is regularly used.
As part of the Wisconsin DHS investigation, sampling was taken of municipal drinking water in 2019 and January 2022. The results revealed all six wells providing the local drinking water in the City of Wausau produced levels of PFAS ranging from 23 to 48 parts per trillion, which far exceeds the DHS's PFAS health advisory limit of 20 parts per trillion.
The site Evaluation Program Coordinator of the Bureau of Environmental and Occupational Health, Nathan Kloczko, MPH, recommended Wausau residents to take action and to "use an alternative water sources for drinking and preparing foods which take up a lot of water, have water as a main ingredient, and preparing infant formula." The recommendations include using bottled water that has been purified or filtered, or to filter their tap water with a certified filter technology.
The letter warns the primary method of PFAS exposure is through ingesting contaminated water, and that the water is still safe for showering, brushing teeth, laundry and washing food since PFAS do not easily cross through the skin.
PFAS Exposure Health Risks
PFAS were first introduced into the manufacturing industry in the 1940's, because of their ability to resist heat, grease, stains, and water. However, the chemicals have since been linked to a myriad of side effects, including liver damage, thyroid disease, decreased fertility, high cholesterol, obesity, hormone suppression, and cancer.
While PFAS chemicals are used in a variety of industries, including in food packaging materials, pizza boxes, popcorn bags, fabrics, nonstick cooking pans and other products, most of the widespread drinking water contamination in the United States has been linked to high volumes of PFAS chemicals in firefighting foams, which have been used on military bases, airports and other training facilities.
In recent years, hundreds of firefighting foam lawsuits have been filed by former civilian and military firefighters diagnosed with various forms of cancer after direct exposure to the chemicals. In addition, a number of municipal water systems are also pursuing claims against the chemical manufacturers over clean-up costs.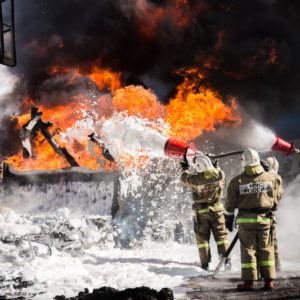 Learn More About
Exposure to firefighting foam chemicals may result in an increased risk of cancer for firefighters, military and airport personnel.
Learn More About this Lawsuit
As more information is discovered about the more widespread contamination problems in surrounding communities, a growing number of individuals are now pursuing potential PFAS drinking water lawsuits, alleging that they developed kidney cancer, testicular cancer, pancreatic cancer, liver cancer, bladder cancer, ulcerative colitis and other injuries.
The U.S. Department of Defense (DoD) released the results of testing of off-base drinking water for PFAS last week. The report found many locations had drinking water PFAS contamination levels so high they exceeded the safe levels established by the U.S. Environmental Protection Agency, which many environmentalists and consumer safety advocates criticize as too lax.
"*" indicates required fields