Michigan Air Force Base May Have Contaminated Local Drinking Water
August 14, 2018
By: Irvin Jackson
A new report raises concerns that a military base in Michigan may have contaminated local drinking water supplies, putting base workers, veterans and other area residents at an increased risk of cancer. 
Last month, the Agency for Toxic Substances & Disease Registry (ATSDR) published a draft report (PDF) on contaminants in the drinking water in Oscoda, Michigan, known as volatile organic compounds (VOCs). The area is the former home of the Wurtsmith Air Force Base (WAFB), and the report warns that people who drank or had skin contact with water in or around the base may face an increased cancer risk.
The ATSDR reached three conclusions in the draft report. First, some children and adults who used trichloroethylene (TCE) contaminated water in their homes in the past may be at risk for harmful non-cancer side effects. Second, some people who were exposed to TCE through the use of drinking water wells may be at an increased risk of cancer. Third, some on-base employees were exposed to benzene in drinking water in Building 5008 for many years and may be at increased risk of both hematological and cancer side effects.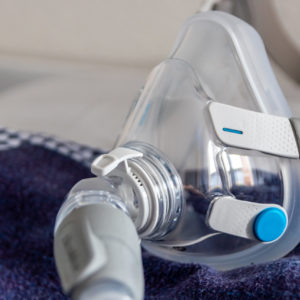 Did You Know?
Millions of Philips CPAP Machines Recalled
Philips DreamStation, CPAP and BiPAP machines sold in recent years may pose a risk of cancer, lung damage and other injuries.
Learn More
The report stresses that these exposures occurred decades ago and that drinking water in the area currently is safe. The base was decommissioned in 1993.
"Most of the past exposures occurred before 1980," the report notes. "Today, the majority of on-base and off-base facilities, residences, and camps receive their drinking water from the Huron Shores Regional Utility Authority, a source that is not located near WAFB and that meets all federal and state drinking water quality standards. A few wells that are still in service are being monitored by local authorities."
TCE Health Risks
TCE is a widely used chlorinated solvent. It is used as a degreaser to clean machinery, paint stripper, adhesive solvent, is often used during the etching process and is sometimes used as an ingredient in paints and varnishes. Exposure to the chemical has already been shown to cause cancer in animals when inhaled or absorbed by the skin in large amounts.
Many people believe the chemical is used at such low levels that it is unlikely to cause harm. However, the World Health Organization (WHO) named TCE a human carcinogen in 2012. The chemical continues to be widely used, especially in the United States.
The ATSDR report indicates that exposure to TCE in drinking water could result in heart malformations, adult immunological effects and developmental immunotoxicity. It could also cause birth defects, such as fetal heart malformations and cardiac heart defects even if a pregnant woman is exposed for a short period of less than three weeks, the report warns.
A 2013 study linked TCE exposure to an increased risk of liver, cervical and kidney cancer.
Benzene Leukemia Risks
Benzene is an industrial chemical that has been associated with the development of several fatal forms of cancer, leukemia and other conditions, such as AML, Chronic Myelogenous Leukemia (CML), Acute Lymphocytic Leukemia (ALL), Chronic Lymphocytic Leukemia (CLL), Hairy Cell Leukemia (HCL), Non-Hodgkin's Lymphoma, Multiple Myeloma, Myelodysplastic Syndrome (MDL), Myelofibrosis and Myeloid Metaplasia, Aplastic Anemia and Thrombocytopenic Purpura.
Heightened benzene levels released into the environment can cause a multitude of complications for those exposed to the chemical. Benzene is a chemical that is a colorless or light yellow liquid at room temperature and has a sweet odor that is highly flammable. Benzene evaporates into the air very quickly and its vapor is heavier than air causing it to sink into low-lying areas.
The chemical only dissolves slightly in water and will float on top of water causing a danger to drinking water, wildlife, and those who enter the water. People can be exposed to the chemical from leaks from underground storage tanks or from hazardous waste sites containing benzene can contaminate well water. People working in oil industries that make or use benzene may be exposed to the highest levels of it.
Long-term side effects of benzene exposure have been proven to cause anemia, which is a condition that develops when your blood lacks enough healthy red blood cells or hemoglobin. Essentially, the chemical causes bone marrow not to produce enough red blood cells, which can damage an individual's immune system. The Department of Health and Human Services has determined that long term exposure to benzene can significantly impact the blood cells to the extent it causes cancer such as leukemia, a cancer of the blood-forming organs.
The ATSDR is accepting public comment on the draft report until September 30, 2018. Comments must be submitted in writing to ATSDRRecordsCenter@cdc.gov or through mail to:
Agency for Toxic Substances and Disease Registry
Attn: Records Center
Re: Former Wurtsmith Air Force Base (Oscoda, MI)
4770 Buford Highway, NE (MS F-09)
Atlanta, Georgia 30341
Susan

August 28, 2022 at 10:15 am

My husband grew up in Oscoda, Mi. His family owned the Family Villa Restaurant on 23. He definitely drank contaminated water, and suffered from Acute Myloid Leukemia, which he was diagnosed with in September 2010 and passed on June 9, 2011. His oncologist discussed with us the causes of this disease. One of which was from jet fuel. Sure you know what that can do. We lost a good husban[Show More]My husband grew up in Oscoda, Mi. His family owned the Family Villa Restaurant on 23. He definitely drank contaminated water, and suffered from Acute Myloid Leukemia, which he was diagnosed with in September 2010 and passed on June 9, 2011. His oncologist discussed with us the causes of this disease. One of which was from jet fuel. Sure you know what that can do. We lost a good husband, devoted father, son and brother. It doesn't seem to matter to anyone.

Ellen

August 23, 2022 at 8:06 pm

We lived on Wertsmith AF base in the early 70's and my son was just diagnosed with stage 4 kidney failure.

Linda

May 28, 2022 at 5:01 pm

We were stationed at WAFB from 1968 - 1971, is there a chance that we drank contaminated water living on base?? Nice that our wonderful government lets us know about these things 50 years later.....

Kayla

September 24, 2018 at 8:15 pm

I was diagnosed at age 3 with liver cancer after living on Wurtsmith base in 1988 and barely survived. I have lifelong complications such as hearing loss and heart failure due to the chemo I had to undergo, and I'm now not able to bear any more children. My mother has been diagnosed with Scleroderma. I'm trying to research all that I can so I know what options I have, if any, and hold whomever is [Show More]I was diagnosed at age 3 with liver cancer after living on Wurtsmith base in 1988 and barely survived. I have lifelong complications such as hearing loss and heart failure due to the chemo I had to undergo, and I'm now not able to bear any more children. My mother has been diagnosed with Scleroderma. I'm trying to research all that I can so I know what options I have, if any, and hold whomever is responsible accountable. The testings and studies done say that the base claims that the toxic levels weren't high enough by 1980, but I feel this is false considering all of the data and feedback I've been reading up on from others.

Craig

August 14, 2018 at 5:32 pm

I meet my wife in Oscoda in 1972 ( she had lived there over 12 yeasr at that time. My wife an I lived on Wurtsmith AFB in the base housing closet to the contaminated area for a total of 11 years. in 2012 my wife was diagnosed with leukemia and AML ( no family history), After a year of being in the Portsmouth Naval Hospital on a monthly basis, she passed away 3 days before she was scheduled for a[Show More]I meet my wife in Oscoda in 1972 ( she had lived there over 12 yeasr at that time. My wife an I lived on Wurtsmith AFB in the base housing closet to the contaminated area for a total of 11 years. in 2012 my wife was diagnosed with leukemia and AML ( no family history), After a year of being in the Portsmouth Naval Hospital on a monthly basis, she passed away 3 days before she was scheduled for a bone marrow transplant. My two kids were born and raised on Wurtsmith AFB ( daughter 19181- 1990 and son 1983 - 1990). I've had heart deisease, ( three operations) postrate cancer, skin cancer ( 2 types) two unknown issues that put me in ICU, Chemo , radiation and blood transfusions both related to cancer. along with kidney issues. I believe that I should get some sort of compensation for the pain and suffering that my family has suffered. . Along with medical care for my kids ( who have both had children). I spent 32 years in the Air Force, and only receiving 50% disability form the VA. I was in 2015 I was told the hart issues and cancer were not relate to my military career, I would like the VA to reconsider my request and pay me as I deserve,
"*" indicates required fields