Acellular Dermal Matrix Used In Breast Reconstruction Surgery May Have High Complication Rates, FDA Warns
April 01, 2021
By: Irvin Jackson
Federal regulators indicate some surgical mesh products used during breast reconstruction could increase the risk of serious complications, such as infections and the need for implant removal.
The FDA issued a safety communication on March 31, warning about a high rates of complications with acellular dermal matrix (ADM) products used in implant-based breast reconstruction surgery. According to the agency's warning, certain of these surgical mesh-type products can result in the need for reoperation and implant removal.
ADM is not cleared for, nor approved by the FDA for use in breast reconstruction, the regulators warn. While doctors are able to use the devices "off label" for whatever they deem appropriate, the FDA is calling for physicians to warn patients that these surgical mesh products are not approved for use in breast reconstruction surgery.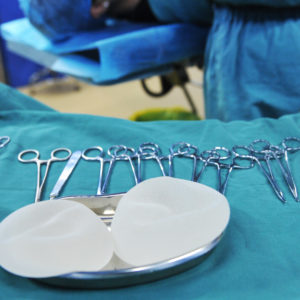 In addition, the FDA wants doctors and patients to discuss the risks and benefits of implant-based breast reconstruction with or without ADM use, and to also discuss the types of ADM a doctor might use. The agency is calling on doctors and patients to report any adverse events to the FDA to help it better understand the risk of ADM use during implant-based breast reconstruction.
ADM is a surgical mesh made from either human or animal skin, where the cells themselves are removed, but the support structure remains in place. They are designed to reinforce areas of weakness in tissue. They include brands such as FlexHD, AlloMax, AlloDerm and SurgiMend and are approved for use in hernia surgeries. However, the FDA noted that, over the past few years, doctors have increasingly been using ADM off-label for implant-based breast reconstruction.
This latest warning comes following an analysis of patient-level data, which linked two ADMs, FlexHD and Allomax, to a higher risk of complications than other ADM products. The data came from 11 centers, including nine academic hospitals, in the U.S. and Canada with high volumes of breast reconstruction. The study is known as the Mastectomy Reconstruction Outcomes Consortium (MROC).
"The FDA's analysis of the MROC Study data showed significantly higher major complication rates of explanation, reoperation, and infections in patients with FlexHD and AlloMax brands of ADM two years after surgery, when compared to patients who received SurgiMend or AlloDerm brands, or no ADM," the safety communication states. "This increase in complications associated with FlexHD or ALloMax was seen across multiple sites."
The FDA also notes similar evidence has been seen in multiple peer-reviewed publications in the medical literature, which imply there are differences in safety profiles among different brands of ADM. The agency is calling for additional studies and clinical data to better assess the risks and benefits of these products.
The agency requests doctors and patients who experience adverse events involving ADM report the problem to the FDA MedWatch Adverse Event Reporting Program.
Frances

December 28, 2022 at 1:39 pm

I had breast reconstructive surgery where Acellular Dermal Matrix was used. I experienced infections and was treated for sepsis due to the infection. I just learned that a claim can be filed for injury. I hope I will be permitted to file a claim.
"*" indicates required fields