Firefighter Claims Breast Cancer Caused By Film-Forming Foam
September 30, 2020
By: Irvin Jackson
A Florida firefighter has filed a lawsuit over breast cancer she indicates was caused by exposure to toxic chemicals in Aqueous film-forming foams (AFFFs), which was commonly used during training exercises and in response to certain fuel-based fires.
The complaint (PDF) was brought by Debbie Rittinghouse in the U.S. District Court for the District of South Carolina on September 15, joining a number of similar cases being pursued against various chemical and fire safety equipment manufacturers responsible for the anti-fire foam.
Rittenhouse indicates she worked as a firefighter for the Broward Sheriff's Office Department of Fire Rescue in Broward County, Florida, from 1994 until her retirement in 2018. She was diagnosed with a grade 3 invasive ductal carcinoma and metastasized lymph node in September 2016, which she directly relates to chemicals contained in AFFF.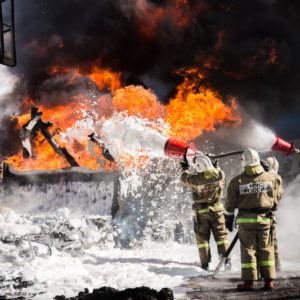 Since the 1960s, the firefighting foam has been used at military bases and by some civilian firefighting organizations, due to its ability to resist grease and heat. It includes the use of perfluorooctanoic acid (PFOA) and perfluorooctanesulfonic acid (PFOS), known collectively as per- and polyfluoroalkyl substances (PFAS), which are toxic and knwon to build up in the body over time, increasing the risk of cancer and other injuries.
The complaint names 3M Company, Buckeye Fire Equipment Company, Chemguard, Inc., Chemours Company,  Arkema, Inc., Du Pont De Nemours Inc., Kidde-Fenwal, Inc., Kidde, National Foam Inc. Tyco Fire Products, and BASF as defendants, indicating that each of the companies had a role in the production or sale of the toxic film-forming foam.
"Throughout her long career, Plaintiff conducted routine trainings using Defendants' AFFF and fluorochemical products," Rittinghouse's lawsuit states. "At no point during her training or career did she receive any warning that Defendants' AFFF containing PFOA and PFOS and/or their precursor chemicals was toxic or carcinogenic."
PFAS chemicals are projected to take thousands of years to degrade, and past studies have shown their ability to enter and stay in the environment and human body through air, dust, food, soil and water.
Previously studies conducted by the U.S. Centers for Disease Control and Prevention (CDC) have shown that PFAS chemicals primarily settle into the blood, kidney and liver, and could be detected in the blood of 98% of the U.S. population. However, the levels of exposure among firefighters using the film-forming foam are substantially higher.
The complaint filed by Rittenhouse joins dozens of other firefighting foam lawsuits being pursued by other firefighters diagnosed with testicular cancer, kidney cancer, pancreatic cancer and other injuries. In addition, a number of claims have been filed over water contamination near military bases, airports and other training locations where the foam was regularly used.
Given common questions of fact and law raised in cases brought throughout the federal court system, the film-forming foam litigation has been centralized in the U.S. District Court for the District of South Carolina as part of an MDL, or multidistrict litigation.
"*" indicates required fields