Chemicals in Firefighting Foam Caused Colon and Kidney Cancer, Lawsuit Alleges
August 27, 2020
By: Irvin Jackson
According to allegations raised in a product liability lawsuit recently filed by a former firefighter, chemicals in aqueous film-forming foam (AFFF) used during training exercises and in response to certain fuel-based fires resulted in a diagnosis of both colon cancer and kidney cancer.
Goldwyn Hutto filed the complaint (PDF) in the U.S. District Court for the District of South Carolina on August 19, presenting claims for himself and his wife, Amanda, against various manufacturers of chemicals and fire safety equipment such as 3M, Du Pont, Kidde and Tyco Fire Products.
According to the lawsuit, Hutto worked as a firefighter for more than 21 years, serving in the Shreveport Fire Department and Caddo Fire District #5 during that time. While working as a firefighter, AFFF fire foam was regularly used, exposing him to toxic chemicals known as per- and poly-fluoroalkyl substances (PFAS), which can build up in the body and increase the risk of cancer.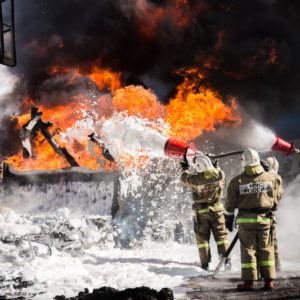 Following his career as a firefighter, Hutto indicates he was diagnosed with colon and kidney cancer in 2016, which the lawsuit blames on exposures to the firefighting foam chemicals.
AFFFs have been widely used at military bases and other training locations for decades, as the chemicals make the fire foam more effective than water alone, because of their ability to resist heat. However, PFAS chemicals in the fire foam have been linked to a number of serious side effects for firefighters and others regularly exposed to the chemicals.
Previous U.S. Centers for Disease Control and Prevention (CDC) studies have shown PFAS chemicals primarily settle into the blood, kidney and liver, and could likely be detected in the blood of 98% of the U.S. population.
The lawsuit indicates PFAS has been detected in Hutto's blood serum.
"Defendants have each designed, marketed, developed, distributed, sold, manufactured, released, trained users on, produced instructional materials for, and/or otherwise handled and/or used AFFF containing PFAS, including in Louisiana, in such a way as to cause the contamination of Plaintiff's blood and/or body with PFAS, and the resultant biopersistence and bioaccumulation of such PFAS in the blood and/or body of Plaintiff," the lawsuit states. "Prior to commercial development and large-scale manufacture and use of AFFF containing PFAS, no such PFAS had been found, detected, or were present in human blood."
In addition to firefighting foams, PFASs are also used to manufacture a number of other products, including food packaging materials, pizza boxes, popcorn bags, fabrics, nonstick cooking pans, and other products. However, the level of exposure for firefighters during training and response exercises can be substantially higher.
The substances are commonly referred to as "forever chemicals", since they are projected to take thousands of years to degrade, and can build up in the body.
Since December 2018, all firefighting foam cancer lawsuits filed in federal courts nationwide were centralized in the U.S. District Court for the District of South Carolina for pretrial proceedings.
"*" indicates required fields