Even Short-Term Exposure to Air Pollution Increases Stroke Risks, Study Warns
September 29, 2023
By: Martha Garcia
A new study has identified an increased risk of stroke associated with various forms of air pollution, such as particulate matter and nitrogen dioxide, indicating that even short-term exposure can result in serious injury or death.
While prior research has linked long-term air pollution exposure to a stroke risk and depression later in life, in this latest study researchers sought to determine if there was any increased risk associated with short-term exposure.
Researchers from the University of Jordan conducted a search of previously published studies up until February 2023, examining data that focused on the correlation between short-term exposure to air pollutants and ischemic stroke, as well as dying from ischemic stroke. Their findings were published on September 27 in the journal Neurology.
The study looked at the effects of various air pollution types, including carbon monoxide, sulfur dioxide, nitrogen dioxide, ozone, and particulate matter 1, 2.5, and 10 mm (PM 1, PM 2.5, and PM 10).
Study authors examined more than 18 million cases of ischemic stroke derived from 110 observational studies. Nearly 60% of the studies came from Asia, which experienced significant levels of air pollution; about 24% of the studies were from Europe, and 17% from North and South America.
Several Air Pollutants Linked to Increased Stroke Risks
Overall, the risk of suffering a stroke increased among people with higher levels of exposure to nitrogen dioxide, carbon monoxide, sulfur dioxide, ozone, also commonly referred to as smog, and PM 1, PM 2.5, PM 10. The researchers also found that an increase in the concentration of exposure to nitrogen dioxide, sulfur dioxide, PM 2.5 and PM 10 were linked with an increased risk of dying from ischemic stroke.
According to the findings, people who were exposed to nitrogen dioxide within five days prior had a 30% increased risk of stroke. Those exposed to carbon monoxide within five days faced a 26% increased risk, 15% for those exposed to sulfur dioxide, and a 5% increased risk for those exposed to smog within the five days prior to their stroke.
Patients who were exposed to sulfur dioxide within five days faced a 60% increased risk of dying from ischemic stroke. Among patients exposed to particulate matter within five days, those exposed to PM 2.5 faced the highest risk, with a 15% increased risk of death. Patients exposed to PM 10 faced a 10% increased risk of dying and those exposed to PM 1 faced a 9% increased risk.
Air Pollution Risks
Particulate matter is measured by the size in micrometers. PM 2.5 is 2.5 micrometers, or less than 70 times the width of a human hair. Particles this small can easily be inhaled into the body, enter the bloodstream and lead to widespread inflammation that can cause serious health side effects.
Particulate matter air pollution has been linked to a significant increased risk of childhood asthma, high blood pressure, heart disease, and increased risk of dementia later in life.
An ischemic stroke is when the blood supply leading to the brain is blocked or reduced, preventing oxygen from getting to the brain. More than 5 million Americans die after suffering a stroke every year.
Ischemic stroke can cause brain cells to die within minutes and requires early and immediate medical attention to prevent brain damage or other long-term complications, such as loss of mobility, speech, or other facets of life.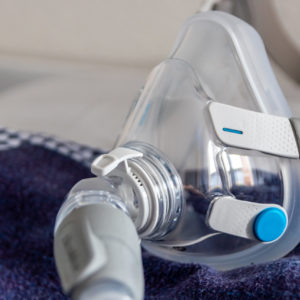 Did You Know?
Millions of Philips CPAP Machines Recalled
Philips DreamStation, CPAP and BiPAP machines sold in recent years may pose a risk of cancer, lung damage and other injuries.
Learn More
While prior research has linked air pollution exposure to stroke, air pollution affects more than the lungs. It can also affect the cardiovascular system and brain.
Researchers believe emissions from air pollution are inhaled through the lungs but enter the bloodstream, eventually traveling to every part of the body, including the heart and brain, and can lead to serious side effects.
The primary drivers of air pollution include fossil fuel extraction, widespread emissions from manufacturing and industry, vehicle emissions, burning fuel to heat homes, and wildfires, researchers say. Nearly half the U.S. population lives in areas with unhealthy air pollution.
"There is a strong and significant correlation between gaseous and particulate air pollutants and the occurrence and mortality rates of stroke," the researchers concluded. "This close temporal association underscores the importance of implementing global initiatives to develop policies aimed at reducing air pollution."
"*" indicates required fields