Particulate Matter Air Pollution Linked To Vision Loss: Study
February 01, 2021
By: Martha Garcia
The findings of a new study indicates exposure to particulate matter in air pollution may increase the risk of macular degeneration, and related vision loss.
Age-related macular degeneration is an irreversible type of progressive blindness, which researchers indicate may be 8% more likely to occur among those with the highest pollution exposure of fine particulate matter, according to the findings published last month in the British Journal of Ophthalmology.
Researchers from the U.S. and U.K. conducted a cross-sectional study which included more than 115,000 UK Biobank participants ages 40 to 69 years old, with no eye problems at the beginning of the study.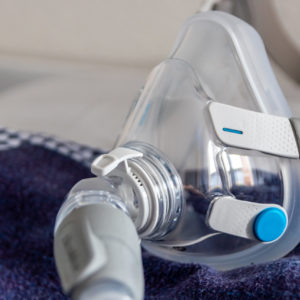 Did You Know?
Millions of Philips CPAP Machines Recalled
Philips DreamStation, CPAP and BiPAP machines sold in recent years may pose a risk of cancer, lung damage and other injuries.
Learn More
The study assessed self-reported age-related macular degeneration diagnoses and measures of retinal sublayer thickness, which is a structural change in the thickness or numbers of light receptors in the retina.
Ambient air pollution measures included particulate matter, nitrogen dioxide and nitrogen oxides. Estimates were provided by the Small Area Health Statistics Unit as part of the BioShaRE-EU Environmental Determinants of Health Project. Official information on traffic, land use, and topography was used to calculate the annual average air pollution levels at participants home addresses.
Individuals with exposure to higher levels of particulate matter (PM 2.5) air pollution and nitrogen dioxide were found to have thicker inner and outer segment layers of the retina and thinner retinal pigment epithelium layer. These types of changes to the eye are linked to progressive and irreversible vision loss known as age-related macular degeneration.
PM 2.5 is air pollution particles the size of 2.5 micrometers or smaller, or roughly 70 times smaller than one human hair. These are a mixture of soot and dirt so small that the particles are easily inhaled into the lungs and move to the blood stream, leading to health side effects.
Researchers indicated exposure to PM 2.5 air pollution increased the risk of macular degeneration by 8% in the most polluted areas. Even at low exposure levels, the risk of age-related macular degeneration was increased.
Prior research indicates exposure to particulate matter air pollution increases the risk of early death, even at levels below national safety standards. Short-term exposure can lead to other health side effects, such as increased risk of cardiac arrest.
In this latest study, higher levels of PM 10 were linked with thicker photoreceptor outer segment and thinner retinal pigment epithelium layer. Higher exposure to nitrogen oxides was liked to thinner photoreceptor synaptic region. Both changes that can lead to vision loss.
"Greater exposure to PM 2.5 was associated with self-reported age-related macular degeneration, while PM 2.5, PM 2.5 absorbance, PM 10, nitrogen dioxide and nitrogen oxides were all associated with differences in retinal layer thickness," the researchers noted.
The findings suggest air pollution is an important, but modifiable risk factor affecting eye disease which may lead to loss of eyesight.
The research does not prove cause and effect but suggests an association between particulate matter and macular degeneration. However, researchers speculate age-related macular degeneration caused by air pollution may be linked through oxidative stress or inflammation caused by structural changes linked to air pollution exposure.
In high-income countries, age-related macular degeneration is the leading cause of irreversible blindness among people over 50. Nearly 300 million people will be affected by the condition by 2040.
Air pollution, especially exposure to particulate matter, leads to the deaths of more than 30,000 Americans each year and is linked to neurological disorders later in life, such as Alzheimer's disease and dementia.
"*" indicates required fields