Moor Herbs Angel Formula Recall Issued After FDA Warns Products Fail to Meet Nutritional and Labeling Requirements
January 10, 2022
By: Russell Maas
Federal health officials have announced a baby formula recall impacting certain Angel Formula products sold by Moor Herbs of Detroit, Michigan, after determining the products may contain elevated levels of heavy metal and lack crucial vitamins.
The U.S. Food and Drug Administration (FDA) announced the Angel Formula recall on January 7, after routine testing confirmed elevated levels of iron, potassium and sodium, and found the infant formula failed to contain Vitamin D, a lack of which may cause multiple developmental health risks for infants.
Health risks from baby formula can be severe if the formula is not specially formulated to account for the specific needs of infants. If the formula contains elevated levels of ingredients, or does not contain the appropriate vitamins, minerals and nutrition for a growing infant, the child can experience serious malnutrition and side effects, health experts warn.
According to the recall, FDA laboratory testing revealed Moor Herbs Angel Formula products "did not meet specific nutrition and labeling requirements for infant formula, even though it is marketed as such." The agency warns the products contain levels of iron, sodium and potassium well over the maximum allowable limits in infant formula which may result in iron overload and electrolyte imbalances for infants.
The recall states the products also fail to contain vitamin D, which may cause children to develop vitamin D deficiencies and lead to the onset of rickets disease, which causes children to suffer from softening and weakened bones, typically resulting in bow legs.
Baby Formula Health Risks
The recall was released amid rising concerns over Enfamil and Similac baby formula health risks, with a growing number of lawsuits now being pursued by parents of premature babies who developed a severe and often fatal gastrointestinal disorder after being fed the formula, known as necrotizing enterocolitis (NEC).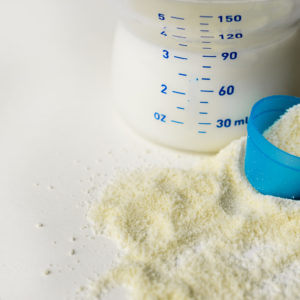 Learn More About
Premature infants fed Similac or Enfamil cow's milk formula faced increased risk of necrotizing enterocolitis (NEC) or wrongful death.
Learn More About this Lawsuit
This condition occurs when the wall of the small intestine is invaded by bacteria, leading to the description of the bowel and often resulting in emergency surgery while the baby is still in the NICU. According to allegations raised in  Similac NEC lawsuits and Enfamil NEC lawsuits, the manufacturers knew these cow's milk formula products posed a substantially increased risk for premature infants, yet failed to warn parents, doctors or the medical community.
The baby formula recall issued by Moor Herbs is unrelated to these cases, impacting certain products sold in 16 fluid ounce plastic bottles without any UPC or lot code numbers. The infant formula was distributed for sale through its Detroit, Michigan retail store and online at www.moorherbs.com since February 2019.
Parents and caregivers are being instructed to stop using the recalled Angel formula immediately and to either discard it or return the product to the place of purchase for a refund. Customers may contact the manufacturer directly at 313-583-9709 for additional information.
The FDA is advising parents of infants who have used the recalled infant formula to contact their child's healthcare provider about any potential baby formula health risks.
"*" indicates required fields