Aqueous Film Forming Foam (AFFF) Colon Cancer Lawsuit Filed By South Carolina Firefighter
January 15, 2021
By: Irvin Jackson
A former career firefighter indicates he developed colon cancer following exposure to aqueous film forming foam (AFFF) over a period of nearly four decades to fight certain fuel based fires and during training exercises.
In a product liability complaint (PDF) filed in the U.S. District Court for the District of South Carolina on January 1, Walter Heckle indicates 3M Company, Tyco Fire Products and numerous other safety equipment and chemical manufacturers should be held liable for is colon cancer diagnosis.
Aqueous film-forming foams (AFFF) have been used by firefighters over the past few decades, with certain versions containing toxic chemicals known as per and polyfluoroalkyl substances (PFAS), which are now known to build up in the body and increase the risk of cancer and other health problems.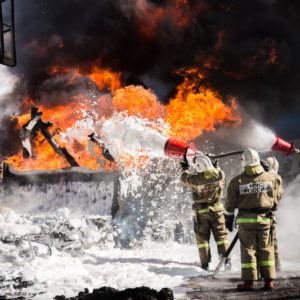 "The descriptive labels and data sheets for the AFFF containing PFAS utilized at the Town of St. Matthews Fire Department in Calhoun County, South Carolina did not reasonably nor adequately describe the hazards of AFF containing PFAS," the lawsuit states. "Defendants knew or should have known of these hazards when the product was distributed."
Experts indicate PFAS chemicals contained in AFFF may take thousands of years to degrade, and past studies have shown their ability to enter and stay in the environment and human body through the air, dust, food, soil, and water.
The toxic chemicals were first introduced into the manufacturing industry in the 1940's, because of their ability to resist heat, grease, stains, and water. However, since then the chemicals have been linked to a myriad of adverse health effects including liver damage, thyroid disease, decreased fertility, high cholesterol, obesity, hormone suppression, and cancer.
Heckle's complaint joins a number of firefighting foam lawsuits filed across the nation, all raising similar allegations of the manufacturers failing to warn of the dangerous PFAS, which have resulted in those exposed to develop testicular cancer, kidney cancer, pancreatic cancer and other injuries.
Due to the growing number of lawsuits over firefighting foam injuries brought throughout the federal court system, centralized pretrial proceedings have been established in the U.S. District Court for the District of South Carolina, where the parties are engaging in coordinated discovery and preparing for a series of early "bellwether" trials designed to gauge how juries are likely to respond to certain evidence and testimony that will be repeated in claims brought by firefighters nationwide.
"*" indicates required fields