Baby Formula Promoted for Preterm Babies, Despite Necrotizing Enterocolitis (NEC) Risks
November 03, 2021
By: Irvin Jackson
Since at least 1990, scientists and health experts have warned that baby formula derived from cow's milk places preterm infants at an increased risk of a serious and potentially deadly condition, known as necrotizing enterocolitis. However, Similac formula lawsuits or Enfamil formula lawsuits now allege that these products were specifically promoted for use among vulnerable premature babies.
Necrotizing enterocolitis (NEC) is a devastating disease that mostly impacts premature infants, where the wall of the intestine is invaded by bacteria, leading destruction of the bowel and often requiring emergency surgery while the baby is still in the NICU.
Although Similac and Enfamil have been aggressively marketed for use among premature infants, increasing evidence has found that the cow milk formula products greatly increase the risk of a NEC diagnosis compared to human milk, and health experts increasingly recommend the use of a mother or donor's breast milk instead of formula whenever possible.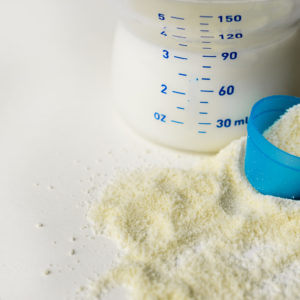 The first study to raise questions about the risks of cow's milk-based infant formula was published in The Lancet in 1990, looking at data on nearly 1,000 preterm infants who were given either breast milk or infant formula.
"In exclusively formula-fed babies (NEC) was 6-10 times more common than in those fed breast milk alone and 3 times more common than in those who received formula plus breast milk," the researchers determined. "Among babies born at more than 30 weeks' gestation confirmed necrotizing enterocolitis was rare in those whose diet included breast milk; it was 20 times more common in those fed formula only."
Another study published in 2010 in the Journal of Pediatrics found that premature infants fed breast milk were 90% less likely to develop NEC than those given formula.
This was followed by a "call to action" by the U.S. Surgeon General in 2011, who pushed for more breast feeding, giving its reduced risk of NEC as one of the primary reasons.
Since then, a series of other studies, one filed almost every year, have all been published in various medical journals, which either found that breast milk was more likely to protect preterm infants from NEC, or warning that formula derived from cow's milk increased the risk of the potentially deadly ailment.
Baby Formula Necrotizing Enterocolitis Lawsuits Over Failure to Warn
Despite those repeated findings, the makers of Similac and Enfamil have continued to introduce and market cow's milk baby formula and breast milk fortifiers specifically for use among premature or low birth weight infants, without including warnings about the risk of NEC.
In courts throughout the U.S., a growing number of families are now filing a baby formula NEC lawsuit against Abbott Laboratories and Mead Johnson, alleging that the companies knew or should have known that their products were unreasonably dangerous for preemies, yet the companies ceaselessly promoted their cow's milk-based products to hospitals, doctors and parents.
As recently as 2016, Abbott advertised some Similac formulas as being specifically for premature and low birth-weight infants, the lawsuits note, despite the known dangers.
Families now seek damages for the loss of premature babies in wrongful death lawsuits, as well as personal injury claims for life-long injuries and damages children who survived a NEC diagnosis have been left with.
Necrotizing Enterocolitis Attorneys
Find out if your family may have a lawsuit against Similac and Enfamil for failing to warn about necrotizing enterocolitis
CONTACT A LAWYER
"*" indicates required fields