Johnson's Baby Powder Lawsuit Dismissed Over Lack of Ovarian Cancer Diagnosis
March 30, 2015
By: Irvin Jackson
A federal judge has dismissed a class action lawsuit brought over the risk of ovarian cancer from Johnson's Baby Powder, since the claim was based solely on economic damages and failed to involve any allegation that the plaintiff was actually diagnosed with ovarian cancer or suffered any other injury following use of the talcum powder product.
The Johnson's Baby Powder lawsuit was originally filed by Mona Estrada in April 2014, seeking class actions status to pursue economic damages for all women who purchased the talcum powder. The complaint also sought to force the manufacturer to properly inform consumers about the potential health risks with Johnson's Baby Powder, including information about increased ovarian cancer risk.
Estrada maintained that Johnson's Baby Powder is not safe, and that many studies have confirmed that use of the talc for feminine hygiene may increase a woman's risk of ovarian cancer compared to women who never used talcum powders. However, Estrada did not allege that she developed ovarian cancer, but rather was pursuing economic damages, claiming that she and other women never would have purchased the product if they had known that it may cause ovarian cancer.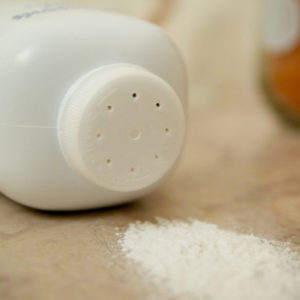 In an order (PDF) issued March 27, U.S. District Judge Troy L. Nunley in the Eastern District of California granted Johnson & Johnson's Motion to Dismiss the lawsuit, finding that Estrada lacks standing to pursue the claim since she has not actually suffered any economic injury and does not allege that she developed ovarian cancer from the Baby Powder, or any other injury. Judge Nunley provided 30 days for Estrada to amend the complaint if appropriate.
Judge Nunley found that the purchase of Johnson's Baby Powder alone was insufficient to cause an economic injury, since Estrada received the "benefit-of-the-bargain," obtaining what she originally intended when purchasing the product.
While economic damages are sufficient basis to provide standing in a case, Judge Nunley indicated that Estrada must be able to demonstrate that she was deceived, and either paid a premium for the product or would have purchased an alternative product.
"Plaintiff cannot claim that she paid a premium for the Baby Powder because she received all of the intended benefits of the bargain," wrote Judge Nunley in the nine page order. "Plaintiff used the Baby Powder for decades presumably because Plaintiff enjoyed the benefits of elimination of friction on the skin, absorption of unwanted excess moisture, and maintenance of freshness. Her continued purchase of the Baby Powder suggests that Plaintiff indeed received such benefits from the Baby Powder and believed it was worth the price."
Baby Powder Ovarian Cancer Risks
The complaint comes amid a growing number of talcum powder ovarian cancer lawsuits filed throughout the U.S. However, other claims have been brought on behalf of women actually diagnosed with cancer following use of Johnson's Baby Powder, Johnson's Shower-to-Shower body powder or other similar products.
While Johnson's Baby Powder is most commonly associated with use to prevent diaper rash for infants, many women use the talc-based powder on their body after a shower.
Talc has been used as a body powder for a long time, but concerns have increased in recent years about the potential risk of ovarian cancer when baby powder is applied to the female genitals. Research has linked the use of talc powder and ovarian cancer for years, with evidence of talc found within many ovarian tumors among users of the product.
In October 2013, a South Dakota jury found that Johnson & Johnson failed to adequately warn consumers about the risk of ovarian cancer from talcum powder products, in a lawsuit filed by Deane Berg, who was diagnosed with cancer in 2006 after using Shower-to-Shower body powder for 30 years.
The International Agency for Research on Cancer, which is part of the World Health Organoization, has classified genital use of talc powder as a "possible carcinogen," and the American Cancer Society has indicated women concerned about the talcum powder cancer risk may want to avoid or limit use by considering cornstarch-based products.
As Baby Powder injury lawyers continue to review and file claims for women throughout the country, it is ultimately expected that several hundred lawsuits will be filed on behalf of women diagnosed with ovarian cancer following use of the talcum powder on their genital area.
"*" indicates required fields