Baby Powder Absestos Lawsuit Results in $26.5M Verdict Over Cancer Risk
August 30, 2021
By: Irvin Jackson
A California jury has ordered Johnson & Johnson to pay $26.5 million to a woman who says she developed cancer from asbestos in Baby Powder products, including $100,000 in punitive damages intended to punish the manufacturer for failing to warn warn about the risks associated with its iconic talcum powder.
The verdict handed down last week in an Oakland court the the latest in a series of massive damage awards leveled against Johnson & Johnson, which currently faces more than 30,000 Baby Powder lawsuits and Shower-to-Shower lawsuits brought by women throughout the court system, most of which involve allegations that talc and asbestos particles in the products caused ovarian cancer and other health problems.
This latest trial involved claims brought by 35 year old Christina Prudencio, who was diagnosed with a rare and particularly deadly form of cancer known as mesothelioma, which is only known to occur from exposure to asbestos. Prudencio alleged that Johnson & Johnson Baby Powder was sold for decades with asbestos particles that contaminated raw talc ingredients.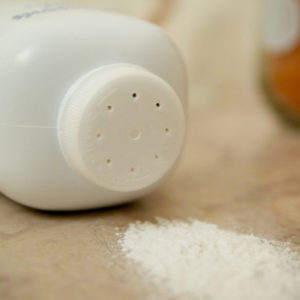 After initially finding Johnson & Johnson liable for causing Prudencio's mesothelioma diagnosis, the jury also added another $100,000 in damages to penalize the company for how it marketed and sold the products.
Johnson & Johnson officials have announced they intend to appeal the verdict, saying the jury's decision contradicted scientific evidence. The company said evidence has shown its products are safe and do not contain asbestos. However, the company has failed to consistently establish the safety of its products at trial, and previously issued a Baby Powder recall for 33,000 bottles in October 2019, after samples tested positive for asbestos.
The numerous court failures and the recall have increased the pressure on Johnson & Johnson to reach a Baby Powder asbestos settlements with women presenting claims for mesothelioma, ovarian cancer and other injuries.
Talcum Powder Bankruptcy Plan
Recently, the multinational corporation has suggested during talcum powder settlement negotiations that it may attempt to spin off a new entity that would carry the liabilities associated with Johnson's Baby Powder and Shower-to-Shower, then place that company into bankruptcy. However, a number of legal experts and courts have already suggested such a plan is not likely to allow the company to do anything more than delay compensating women injured by their products.
Last week, Judge Laurie Selber Silverstein of the U.S. Bankruptcy Court in Delaware refused to block Johnson & Johnson from taking the move of breaking off talc liabilities from its other assets. Judge Silverstein said the plaintiffs did not have legal standing to block the move because it was essentially a legal transaction between Johnson & Johnson and Imerys Talc, America Inc., which is currently reorganizing to come out of bankruptcy due to the financial weight of the talcum powder litigation.
Johnson & Johnson previously told investors it would be able to dismiss the federal litigation, arguing that expert testimony supporting the link between talcum powder and cancer was not strong enough to meet the Daubert standard required in the federal court system. However, the U.S. District Judge presiding over the litigation rejected that argument last year, clearing the way for the first federal trials that are likely to begin next year.
While the outcome of these "test" trials will not be binding on other claims, they will provide a strong signal about the extent of liability Johnson & Johnson may face if it is unable to reach Baby Powder settlements with thousands of women diagnosed with ovarian cancer after regular use of the talc-based powders for feminine hygiene.
"*" indicates required fields