Baltimore City Files Lawsuit Over Cigarette Butt Litter Against Tobacco Companies
November 28, 2022
By: Russell Maas
The City of Baltimore has filed a landmark lawsuit against various tobacco manufacturers and distributors, claiming that the companies should be required to help pay for the financial impacts associated with cleaning up cigarette buts that litter the city and have damaged the environment.
Baltimore Mayor Brandon Scott issued a press release on November 21, indicating that a cigarette butt lawsuit seeks to recoup millions of dollars spent each year for cleanup costs associated with tobacco product litter.
The Baltimore City lawsuit is the first of its kind to be filed against tobacco manufacturers, which if successful, could pave the way for additional communities nationwide to seek damages against the companies that have caused decades of financial harm from their products.
Cigarette butts are cellulose acetate-based, and are non-biodegradable, containing several toxic chemicals including metals, ammonia, formaldehyde, and benzene, according to the lawsuit. With an estimated 4.5 trillion cigarette filters being disposed of worldwide annually, many cities are left with devastating environmental consequences, the City argues.
In the lawsuit, Baltimore City claims many cigarette manufacturers have chosen to use non-biodegradable filters, even though alternative biodegradable filters made from organic materials do exist. The lawsuit claims these manufacturers have also failed to place warnings on cigarette packages instructing smokers to dispose of the filters properly.
The City claims these instructions are omitted by manufacturers out of fear that it would reduce sales.
Cigarette Butt Cleanup Costs
Baltimore City officials indicates it spends over $32 million each year to collect upwards of 2,600 tons of litter, including an estimated $5.3 million strictly on cigarette filter litter. Officials claim the Department of Public Works, which provides trash services in the city, has been stretched thin on budget from millions of dollars being wasted to remove cigarette butts from sewage and draining pipes.
The lawsuit states these added expenditures are caused by many tobacco companies desire for profits, and failure to warn or educate the public about the consequences of cigarette filter litter impacts and costs, which has been "off-loaded" on cities across the country, including Baltimore.
"The same tobacco companies that for decades failed to acknowledge the health risks of their products are now refusing to take responsibility for cigarette butt waste," said Baltimore City Solicitor James L. Shea. ""We believe this lawsuit will hold Big Tobacco accountable for the damage its product causes to the City's streets and waterways", Shea said in the press release.
The lawsuit seeks to recover damages for cigarette butt litter that have included, but are not limited to cleanup and disposal costs, damage to natural resources, diminution in property values, loss of revenue, and substantial fines for dumping their litter in the city.
Baltimore PFAS Water Contamination Lawsuit
The cigarette butt lawsuit comes just weeks after the Mayor and City Council of Baltimore filed a PFAS water contamination lawsuit in the U.S. District Court of Maryland, seeking to hold a number of PFAS chemical companies and firefighting foam manufacturers liable for the contamination of the city's drinking water.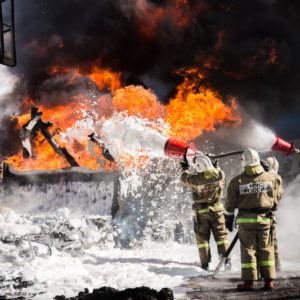 City officials filed the lawsuit after the release of a Maryland Department of Public Works water quality report, which warned that the Baltimore drinking water supply, which serves more than 1.8 million area residents and businesses in the City and County, contained high enough levels of PFAS to raise concerns about public health, according to U.S. Environmental Protection Agency (EPA) standards.
The lawsuit claims 3M Company, E.I. Du Pont De Nemours and Co., Corteva, Inc., Chemguard, Inc., Tyco Fire Products, Raytheon Technologies, BASF Corp. and several others who failed to instruct users of firefighting foam containing PFAS of the need to take proper precautions to limit exposure and failed to provide adequate instructions about the potential risks. The city also accuses the manufacturers of failing to use less toxic compounds to make firefighting foam, which they knew would enter water supplies and impact the environment.
Baltimore is seeking compensatory, consequential and punitive damages to pay for past, current and future costs of the presence of PFAS in drinking water supplies, storm water and wastewater systems, and for damage done to properties and resources under the city's management.
As a result of the harmful effects of the chemicals, many of the same manufacturers face hundreds of firefighting foam cancer lawsuits brought by former users, alleging that they were not adequately warned about the health risks. In addition, a number of communities and local water suppliers have also filed lawsuits over the costs associated with cleaning up the chemicals from drinking water.
"*" indicates required fields