PFAS Levels in Baltimore Water System Higher Than New EPA Health Advisory Levels: Report
July 08, 2022
By: Russell Maas
A new report indicates per-and polyfluoroalkyl substances (PFAS) have been found in the Baltimore drinking water system, at levels that exceed the EPA safe limits, since the toxic chemicals are known to build up in the human body and increase the risk of cancer, ulcerative colitis and other health problems.
The Baltimore PFAS drinking water contamination levels were outlined in a Maryland Department of Public Works Water Quality Report (PDF), which indicates that the drinking water supply that serves over 1.8 million area residents and businesses in Baltimore City and Baltimore County contain levels of PFAS which pose a concern under Environmental Protection Agency (EPA) standards.
PFAS are a group of over 9,000 man-made chemicals which have been frequently used in consumer and industrial products to resist grease, oil, and water since the 1940's.
While they are found in a number of consumer products, the chemicals have caused widespread water contamination problems from firefighting foam, which has been widely used for decades on military bases, airports and other training locations to combat fuel-based fires.
As a result of the harmful effects of the chemicals, manufacturers of the chemicals face hundreds of firefighting foam cancer lawsuits brought by former users, alleging that they were not adequately warned about the health risks. In addition, a number of communities and local water suppliers have also filed lawsuits over the costs associated with cleaning up the chemicals from drinking water.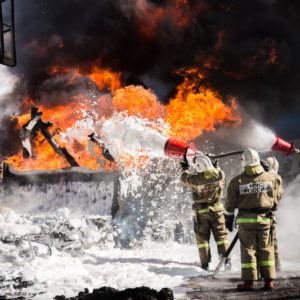 In one of the latest PFAS water contamination discoveries in Baltimore, Maryland officials have identified toxic chemical levels in dozens of water systems that now exceed the EPA's new health advisory threshold for PFAS chemicals, which were changed by the EPA in June 2022 from 70 parts per trillion to .004 parts per trillion (ppt).
In the report, the Maryland Department of Public Works indicates the results of samples taken of the City of Baltimore's drinking water showed a combined PFOA and PFOS concentration of 4.93 parts per trillion (ppt), exceeding the EPA's new health advisory levels.
Following the EPA's PFAS health advisory level change, The Baltimore Sun reported in late June that the Maryland Department of Environment has plans to do additional testing and to issue warnings to Baltimore customers, and that the state may also advise operators of specific water systems to find alternative sources of water.
Maryland PFAS water contamination testing first began in 2020, after a grant was received from the EPA. Upon some of the initial test results, the Maryland Department of Environment discovered 75% of water treatment plants tested had traceable levels of PFAS, with 21% of samples containing levels at 10 ppt or higher.
PFAS Water Contamination Lawsuits
Amid medical evidence linking the chemicals to a myriad of side effects, even at low levels of exposure, a number of PFAS water contamination lawsuits are now being filed by individuals diagnosed with cancer or ulcerative colitis after years of drinking tainted tap water.
The complaints allege that chemical manufacturers covered up evidence of PFAS health risks for years, and knew or should have known that individuals could develop serious injuries after exposure to PFAS chemicals in the local tap water, which builds up over time when the chemicals are improperly dumped or naturally run-off from use in firefighting foams.
As of October 2021, the Environmental Working Group (EWG) has identified 2,854 locations in the U.S. that have confirmed PFAS water contamination in public and private systems. Of those, nearly 400 military installations have been confirmed to have ground water contaminated with PFAS, while contamination is suspected, but not yet confirmed, at hundreds of others.
As a result of the findings, many states have begun filing PFAS lawsuits against manufacturers in recent years over contaminating drinking water sources. Each of the claims have raised similar allegations that manufacturers such as 3M, Dupont and others have released the toxic chemicals into the local water supply, damaging the state's natural resources, leading to a public health crisis and costly remediation efforts.
"*" indicates required fields