Breast Implant Lymphoma Lawsuit Filed Against Allergan
April 09, 2018
By: Irvin Jackson
Allergan faces a product liability lawsuit over its Natrelle Silicone breast implants, which allegedly caused a California woman to develop breast implant-associated anaplastic large cell lymphoma (BIA-ALCL), a rare type of cancer recently linked to the use of certain textured implants. 
The complaint (PDF) was filed last month by Vivian Skelton in Los Angeles County Superior Court, indicating that the manufacturer failed to adequately warn patients and the medical community that its Natrelle breast implants may result in the development of lymphoma in the tissue surrounding the implant.
According to the lawsuit, Skelton underwent bilateral breast augmentation in May 2014, when surgeons used Allergan Natrelle Silicone breast implants. However, she began to suffer pain and discomfort, and underwent revision surgery in January 2015.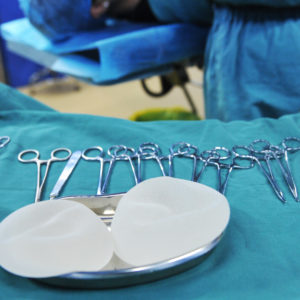 The breast implant problems continued, and Skelton underwent several more procedures, including a second revision surgery in September 2015, which also failed to alleviate the problems, including fluid collection, necrosis, skin thickening and edema.
In March 2016, Skelton was diagnosed with anaplastic large cell lymphoma, which is a subtype of non-Hodgkin lymphoma, which has been increasingly seem among women with artificial breast implants. As a result of the lymphoma, Skelton has undergone chemotherapy and required a left mastectomy and implant removal in July 2016. She also developed left axillary lymphadenopathy, and required additional chemotherapy in February 2017.
Skelton suffered cognitive dysfunction and had to undergo two weeks of rehabilitation, and continues to receive treatment due to the side effects of the breast implant-associated ALCL, the lawsuit indicates.
Breast Implant Cancer Warnings
The FDA first issued warnings about the emerging information about breast implant lymphoma problems last year, and a number of subsequent studies have confirmed that the cancer risk is real, and appears to be linked specifically to the use of certain textured breast implants with larger surface areas.
In June 2017, a study published in the medical journal Plastic and Reconstructive Surgery suggested that certain textured breast implants may increase the risk of anaplastic large cell lymphoma anywhere from 10 to 14 times, when compared to smooth breast implants.
In October 2017, a study published in the medical journal JAMA Surgery warned that many breast implant cancer cases worldwide have likely not been reported, and noted that doctors and patients may not be aware of BIA-ALCL.
Last month, the FDA warned that it was aware of more than 400 cases of breast implant-related cancer. As more information becomes public about the breast implant cancer cases, experts have warned that the number of cases reported will likely increase significantly.
Skelton's lawsuit indicates that Allergan failed to report the results of required post-marketing studies in a timely manner following pre-market approval (PMA) for the Natrelle Silicone implants. She says that had the company conducted those studies properly and reported them in a timely fashion, it could have detected the risk of breast implant lymphoma.
"Allergan failed to report adverse events from the post market approval studies commissioned as part of the implant's PMA approval, which would have led to reports suggesting the device's contribution to serious injury," her lawsuit states. "The purpose of monitoring a product's post-market experience is to detect potential safety signals that could indicate to the manufacturer and the medical community that a public safety problem exists. If a manufacturer waits to report post-market information, even for a few weeks or months, that bottleneck could mean that researchers, regulatory bodies, and the medical community are years behind in identifying a public safety issue associated with the device. In the meantime, more patients are harmed by using the product without understanding its true risks."
She presents claims of negligence, strict product liability, failure to warn, and breach of implied warranty.
As regulators and researchers worldwide continue to evaluate the specific cause of the breast implant lymphoma problems, other women are also raising serious questions about why certain products appear to be more likely to be associated with the development of cancer, and how manufacturers failed to address potential design defects earlier.
Product liability lawyers in the U.S. are now reviewing other potential textured breast implant lawsuits for women diagnosed with anaplastic large cell lymphoma (ALCL), which develops in the tissue surrounding the breast.
"*" indicates required fields