Seroma Formed Three Years After Breast Implants Were Removed: Case Report
September 25, 2017
By: Irvin Jackson
Amid increasing concerns about a rare type of lymphoma linked to breast implants, doctors warn that years after women have their implants removed, they may develop breast seroma that looks similar to breast implant-associated anaplastic large cell lymphoma (BIA-ALCL).
The case report was published this month in the International Journal of Surgery Case Reports, researchers from Denmark's University Hospital Zealand describe problems experienced by a 45-year-old woman, who was suffering bilateral swelling of the breasts that was causing tension and pain. When doctors performed a magnetic resonance imaging (MRI) scan, an accumulation of fluid mimicked the appearance of a breast implant, although no implant was present. The doctors described the fluid found in the seroma as brown and malodorous.
The doctors noted that the woman had previously had both soy and silicone breast implants, but they had been removed. However, they also noted that her symptoms were similar to ALCL linked to breast implants, which could result in a cancer misdiagnosis in other cases.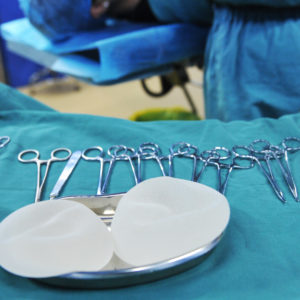 "The seroma inside the capsule was assumed to be the reason for skin distention and pain. We found no pericapsular seroma, silicone implants or silicone debris," the doctors reported. "On suspicion of ALCL the capsule and fluid was sent to pathologic examination. Histology showed fibrosis and foreign body reaction. No malignancy or silicone was found."
The case report comes at a time of heightened concerns over breast implant-associated cancer.
Earlier this year, the FDA issued warnings about breast implant cancer risks, indicating that most women diagnosed with breast implant-associated anaplastic large cell lymphoma (BIA-ALCL) received textured implants, as opposed to implants with smooth surfaces.
While the agency was aware of at least 60 cases of the rare blood cancer from breast implants in early 2011, at least 359 medical device reports were received by the FDA according to a statement issued in March 2017, including at least nine deaths.
In June, a study published in the medical journal Plastic and Reconstructive Surgery suggested that certain textured breast implants may increase the risk of anaplastic large cell lymphoma anywhere from 10 to 14 times, when compared to smooth breast implants.
As researchers continue to evaluate the specific cause of the breast implant lymphoma problems, many women are raising serious questions about why certain products appear to be more likely to be associated with the development of cancer, and how manufacturers failed to address potential design defects earlier.
Product liability lawyers are reviewing potential breast implant lymphoma lawsuits for women nationwide who have been diagnosed with ALCL or other cancer in the tissue around the breasts, which may have been avoided if a different type of implant had been used.
"*" indicates required fields