ByHeart Infant Formula Recall Issued Due to Potential Cronobacter Contamination
December 12, 2022
By: Russell Maas
Another baby formula recall has been issued over concerns that products distributed throughout the United States may be contaminated with Cronobacter sakazakii, which is a bacteria that can cause serious and potentially life-threatening infections, especially among vulnerable newborns.
The U.S. Food and Drug Administration (FDA) announced a ByHeart infant formula recall on December 11, warning parents to stop feeding children the potentially contaminated baby formula immediately to prevent illness and injury.
According to the recall notice, a test sample of ByHeart's Infant Formula Milk Based Powder with Iron collected from the third-party packaging facility tested positive for Cronobacter sakazakii. While the manufacturer has not received any reports of infant formula causing Cronobacter sakazakii infections to date, ByHeart is warning of possible cross-contamination issues during the manufacturing process that could have introduced the bacteria into the formula.
Infant Formula Contamination Lawsuits
The recall comes as Abbott Laboratories faces hundreds of infant formula recall lawsuits over similar problems discovered with Similac, Alimentum and EleCare formula products earlier this year, which were recalled in February 2022, resulting in widespread shortages nationwide.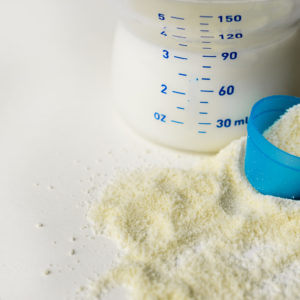 Cronobacter sakazakii is a rare type of bacteria, often found in dry foods, such as infant formula, skimmed milk powder, tea and starches. The bacteria exists in the environment and can survive in very dry conditions, making transmission of the infection possible by touching contaminated surfaces.
The infections can be particularly deadly for infants and the elderly, or those with weakened immune systems. The bacteria may cause serious life-threatening infections or meningitis (an inflammation of the membranes that protect the brain and spine).
Following the Abbott formula recall, the FDA faced sharp criticism for failing to prevent the widespread distribution of contaminated formula for months, as reports suggested that the manufacturer and regulators were aware of cronobacter infections for months before the recall was issued for Similac, Alimentum and EleCare.
In the wake of that recall, the FDA outlined new strategies to prevent Cronobacter contamination of infant formula, which was released only weeks before this latest recall issued for ByHeart formula.
ByHeart Infant Formula Recalled Products
The ByHeart infant formula recall includes five batches of ByHeart Whole Nutrition Infant Formula Milk Based Powder with Iron for 0-12 Months. The formula was canned and distributed in 24 ounce containers and was sold directly to consumers.
Infant formula canisters included in the recall are marked with a batch number located on the bottom of the can printed with use by date of January 1, 2024 or July 1, 2024 (shown as 01 JAN 24 or 01JUL 24). Batch numbers impacted by the recall include;
22273 C1
22276 C1
22277 C1
22278 C1
22280 C1
While ByHeart states all of infant formula packaged on the day the Cronobacter sakazakii sample was collected, and the first production batch on the following day, were isolated and destroyed, the manufacturer has issued a recall out of an abundance of caution.
Customers are being instructed to check the bottom of the can and dispose of any recalled products immediately. ByHeart announced customers will be provided two free cans of alternative formula on their next order.
Parents and guardians are being warned to be aware of the potential symptoms of infant Cronobacter sakazakii infections, which may include poor feeding, irritability, temperature changes, jaundice, grunting breaths and abnormal movements. Infants may also experience bowel disruption or damage that could spread to other parts of the body if not treated promptly.
"*" indicates required fields