California Roundup Cancer Warnings Should Herald End To Public Grounds Use: L.A. Times Editorial
August 08, 2017
By: Irvin Jackson
California municipalities should stop spraying glyphosate-based herbicides on public land, now that the state requires warnings that the side effects of Roundup and similar weed killers could cause cancer, according to a Los Angeles Times editorial. 
Soon California residents will begin seeing warning signs in parks and recreational areas, as required by law, indicating that the area has been sprayed with a potential carcinogen; glyphosate, the active ingredient in Roundup and a number of other weed killers. As a result, the editorial calls on cities to stop spraying the weed killers at all, to reduce unnecessary risk to the populace.
On July 7, the California Office of Environmental Health Hazard Assessment (OEHHA) added glyphosate to its list of cancer causing agents, known as the Proposition 65 list. The move means that Monsanto will have to include a Roundup cancel label on all products sold in the state, alerting consumers that the popular herbicide may be carcinogenic.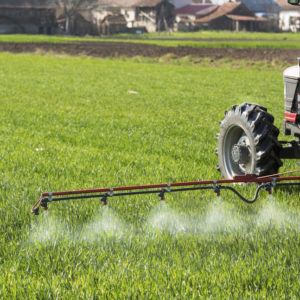 The cancer warnings for Roundup come after the World Health Organization's International Agency for Research on Cancer (IARC) decided to classify glyphosate as a probably human carcinogen in mid-2015, and amid increasing concerns worldwide about the link between exposure to Roundup and non-Hodgkin's lymphoma, as well as other cancers.
The editorial notes that not only would a move away from Roundup make sense for California cities to reduce potential exposure to families visiting green spaces, but it also could potentially result in healthier soil, increased foliage that would reduce water runoff, more plant diversity and other benefits.
In addition, cities face the same liability as private entities when it comes to exposures to toxic substances, and now that glyphosate is listed as a potential carcinogen, it could expose cities to increased liability.
The editorial points out that several California cities are already moving away from glyphosate use, such as Huntington Beach and Irvine.
Although Monsanto has continued to defend the safety of Roundup, calling the IARC findings junk science, experts worldwide have joined the debate over the widespread use of glyphosate-based herbicides, raising questions about why Monsanto marketed Roundup as safe and non-toxic, without providing warnings about the importance of safety precautions.
Across the U.S., several hundred product liability lawsuits have been filed against Monsanto by farmers, landscapers, agricultural workers and others regularly exposed to Roundup, alleging that they may have avoided a diagnosis of non-Hodgkins lymphoma or other cancer if warnings had been provided by Monsanto.
Since October 2016, all federal Roundup lawsuits have been consolidated for pretrial proceedings as part of an MDL, or multidistrict litigation, which is centralized before U.S. District Judge Vince Chhabria in the Northern District of California.
As part of the coordinated litigation, it is expected that a small group of bellwether trials will be prepared for early trial dates to help gauge how juries may respond to certain evidence and testimony that will be repeated throughout the cases. However, if Monsanto fails to reach Roundup settlements or another resolution for the failure to warn cases, hundreds of individual lawsuits may eventually be remanded back to the federal courts where they were originally filed for an separate trial dates.
"*" indicates required fields