Camp Lejeune Birth Defects Lawsuit Filed By Six Military Family Members Exposed to Water In Utero
August 31, 2022
By: Irvin Jackson
Five people born or conceived on a U.S. Marine base have filed a joint lawsuit against the federal government, alleging that they suffered birth defects from Camp Lejeune water contamination, which exposed military family members to toxic chemicals for decades.
The complaint (PDF) was filed last week in the U.S. District Court for the Eastern District of North Carolina, joining a growing number of Camp Lejeune lawsuits now being pursued against the U.S. government, following the signing of the PACT Act earlier this month, which opened the door for claims to be presented over toxic exposures associated with military service.
The new law includes the Camp Lejeune Justice Act of 2022, which provides a two year period for service members and family members, including those exposed to the water in utero, to pursue claims over injuries caused by toxic chemicals that contaminated the Marine base between 1953 and 1987.
In addition to Camp Lejeune birth defect lawsuits, thousands of claims are also expected over the development of various cancers, Parkinson's disease and other ailments that have been linked to toxins in the water.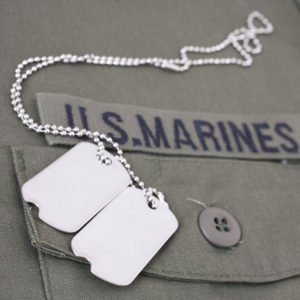 Camp Lejeune Water Contamination Lawsuit
The joint complaint filed last week was brought on behalf of Cathlene Brewer, Jeffrey Hopkins, James T. Maxwell, Sherry A. Miller and Gena M. Parkhurst, all of whom say they were conceived or born at Camp Lejeune, and developed serious birth defects from water contaminants on the base.
In Utero Exposure to Camp Lejeune Water Caused Birth Defects
The plaintiffs indicate that they were exposed to the Camp Lejeune water in utero before birth, after their parents drank, cooked, bathed in and otherwise came into regular contact with the chemicals in the water.
While thousands of former service members are known to have developed injuries, the lawsuit points out that many unborn children also developed birth defects from Camp Lejeune water.
"Victims exposed in utero suffered from severe birth defects, and many did not survive," the lawsuit notes. "Indeed, so many infants died during the contamination period that one cemetery where hundreds are buried has taken on the grim title of 'Baby Heaven'."
Among the plaintiffs, Brewer and Hopkins both suffered from eye defects, such as detached and scarred retinas which caused blindness and other problems. Maxwell suffered kidney birth defects; Miller was born with a spinal disorder and Parkhurst suffered from low birth weight, hip malformations, skeletal anomalies, spina bifida occulta and a spinal malformation.
Each of the military children were exposed to water on the base for least 30 days, and indicate that their mothers also lived on base and consumed or otherwise were exposed to the base's water, which the lawsuit claims contained a host of toxic chemicals such as vinyl chloride and benzene, among others.
"After decades of delay and obfuscation, the federal government finally came clean about the extent of the contamination in 2008, when, pursuant to an express congressional mandate, the Marine Corps began notifying veterans and family members of their potential exposure. Claims against the United States seeking medical care and benefits for the victims of Camp Lejeune began to flow soon thereafter," according to the complaint. "But instead of providing the necessary care to servicemembers and others for their injuries, the United States resisted their claims vigorously. When lawsuits were filed under the Federal Tort Claims Act in federal court, the United States escaped liability by invoking North Carolina's ten year statute of repose – which operated to bar all of the claims even though the government's misconduct had not come to light until well after the statutory period had run."
Following years of efforts to hold the U.S. government accountable for injuries suffered by service members and family members, including Camp Lejeune birth defects suffered by children exposed to the water in utero, the "Honoring our PACT Act of 2022" was signed by President Biden on August 10, 2022.
The new military toxic exposures legislation included the Camp Lejeune Justice Act, which opensed a two year window for claims to be filed by individuals who resided, worked or were otherwise exposed (including in utero exposure) to water on the base for at least 30 days between August 1, 1953 and December 31, 1987.
Camp Lejeune Water Contamination Lawsuits
More than a million Marines and their family members suffered exposure to contaminated Camp Lejeune water between the early 1950s and late 1980s, with some estimates suggesting that toxic chemicals from Camp Lejeune may be responsible for more than 50,000 cases of breast cancer, 28,000 cases of bladder cancer, and 24,000 cases of renal cancer, as well as thousands of cases involve Parkinson's disease and other health complications. It is also believed that Camp Lejeune water caused birth defects and wrongful death for thousands of unborn children exposed in utero.
For months, Camp Lejeune toxic water lawyers have been investigating potential claims in anticipation of this new law taking effect, to gather evidence about specific injuries that can be linked to chemicals found on the base, including various birth defects, cancers, lymphoma, Parkinson's disease, kidney damage, fertility problems and other conditions.
Some estimates suggest that more than 300,000 Camp Lejeune water contamination lawsuits may ultimately be brought by Marine veterans, family members and others before the deadline for filing claims expires in August 2024.
"*" indicates required fields