Camp Lejeune Non-Hodgkin's Lymphoma Lawsuit Alleges Toxic Water Caused Wrongful Death
June 09, 2023
By: Irvin Jackson
After exposure to contaminated water while living at Camp Lejeune for more than nine months in the late 1960s, a Florida man indicates his wife developed an aggressive, and ultimately fatal, form of non-Hodgkin's lymphoma, according to a recently filed lawsuit.
Stephen Isaksen filed a complaint (PDF) this week in the U.S. District Court for the Eastern District of North Carolina, pursuing damages against the U.S. government under the Camp Lejeune Justice Act, on behalf of himself and his late wife, Patricia Isaksen, who lived at Tarawa Terrace on the Marine Base between June 1967 and March 1968, where she was exposed to a variety of toxic chemicals that polluted the water.
The lawsuit indicates that Patricia Isaksen was diagnosed with Sézary syndrome, an aggressive form of non-Hodgkin's lymphoma. She died of complications from the cancer in April 2021.
Isaksen now joins thousands of other Marines and military family members who are pursuing Camp Lejeune lawsuits against the U.S. government, after exposure to contaminants in the water between 1953 and 1987. In addition to non-Hodgkin's lymphoma, various other types of cancer, neurological disorders, birth defects and other injuries have been linked to exposure to the water in recent years.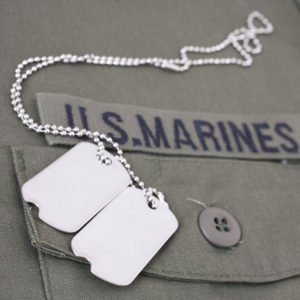 Camp Lejeune Water Contamination Lawsuit
Isaksen is pursuing damages under the Camp Lejeune Justice Act of 2022, which was enacted last year and opened a two year window for veterans, military family members and other individuals exposed to contaminated water at Camp Lejeune to file a lawsuit against the U.S. government, which had previously denied all claims under qualified immunity defenses and the North Carolina Statute of Repose, which was already expired for many claims by the time information about the Camp Lejeune water contamination was publicly disclosed.
Since the new law went into effect, the U.S. government has received notice of more than 60,000 Camp Lejeune water poisoning claims, each of which may later be filed in the Eastern District of North Carolina, which has been granted exclusive jurisdiction over the lawsuits.
"During the period in which Ms. Isaksen was present at Camp Lejeune, she resided at Tarawa Terrace and regularly moved throughout the base. She was thus exposed to water polluted and contaminated as described herein with chemicals including but not limited to TCE, PCE, vinyl chloride, and benzene," the lawsuit states. "She drank the water and used it for bathing, cooking and swimming."
The lawsuit blames the development of non-Hodgkin's lymphoma on Camp Lejeune water contamination, pointing to a number of studies that have shown such exposure is at least as likely as not to cause the cancer.
Camp Lejeune Water Contamination Risks
Estimates suggest more than a million Marines and their family members were exposed to contaminated Camp Lejeune water between the early 1950s and late 1980s, with some reports suggesting that toxic chemicals from Camp Lejeune may be responsible for more than 28,000 cases of bladder cancer, 50,000 cases of breast cancer, and 24,000 cases of renal cancer, as well as thousands of cases involve multiple myeloma, Parkinson's disease and other health complications. It is also believed Camp Lejeune water caused birth defects and wrongful death for thousands of unborn children exposed in utero.
The U.S. Centers for Disease Control and Prevention published a study in 2014, which looked at deaths among Camp Lejeune civilian workers between 1979 and 2008. When they compared those deaths to deaths at another military base which was not known to have contaminated water, they found that Camp Lejeune workers had higher rates of death due cancers of the breasts, bladder, kidneys, lungs, oral cavity, prostate, and rectum.
Workers were also found to face an increased risk of dying from multiple myeloma, kidney diseases, leukemias and Parkinson's disease.
Many of these injuries are specifically listed by the Department of Veterans Affairs as injuries Camp Lejeune workers and residents can be compensated for under the Camp Lejeune Justice Act.
At this time, Camp Lejeune injury lawyers are continuing to review claims for a wide variety of cancers and other complications that may have been caused by the chemicals in the water, including:
Camp Lejeune Cancer Lawsuits:
Acute Myeloid Leukemia (AML)
Brain Cancer
Breast cancer
Bladder cancer
Central Nervous System Cancer
Cervical cancer
Colon Cancer/Colorectal Cancer
Esophageal cancer
Hodgkin's Lymphoma
Kidney cancer
Liver cancer
Lung cancer
Ovarian cancer
Leukemia
Multiple myeloma
Non Hodgkin's Lymphoma
Prostate Cancer
Rectal Cancer
Thyroid Cancer
Other Side Effects Eligible for Camp Lejeune Lawsuit Benefits:
Parkinson's disease
Renal Toxicity/Kidney Disease
Kidney Damage
Hepatic steatosis (fatty liver disease)
Aplastic anemia
Scleroderma
Birth defects
Miscarriage
Female Infertility
Multiple Sclerosis (MS)
Epilepsy (seizures)
Immune Disorders
Nerve Damage
Neurobehavioral effects
Myelodysplastic syndromes (MDS or Pre-Leukemia)
Neurobehavioral effects (tremors, lack of coordination, movement or motor problems or other symptoms consistent with undiagnosed Parkinson's disease)
"*" indicates required fields