Most U.S. Children Have Detectable Levels of Roundup Exposure: CDC
July 22, 2022
By: Irvin Jackson
Federal researchers indicate nearly 9 out of 10 American children have detectable levels of glyphosate, the chemical used as the active ingredient in the controversial weedkiller Roundup, raising concerns about the long-term risk of non-Hodgkins lymphoma from glyphosate and other cancers.
The U.S. Centers for Disease Control and Prevention (CDC) published new data last month from the National Health and Nutrition Examination Survey, which tested hundreds of U.S. children's urine for signs of glyphosate, and found detectable levels in 87% of those evaluated.
The findings come amid increasing evidence about the likely link between Roundup and cancer, and growing calls to reduce use of the active ingredient glyphosate worldwide.
Lawsuits over Non-Hodgkins Lymphoma from Glyphosate in Roundup
Although Bayer and it's Monsanto subsidiary have maintained for years that glyphosate does not cause cancer, the company has faced ore than 100,000 Roundup lawsuits brought by former users diagnosed with non-Hodgkins lymphoma after the herbicide entered their body through the skin or air.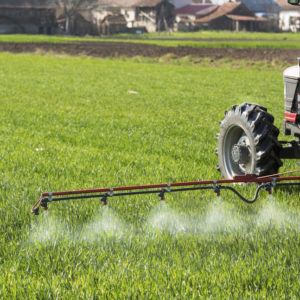 Following a string of massive losses in cases that went to trial in 2018 and 2019, Bayer has engaged in efforts to negotiate Roundup settlements, and indicated last year it would pay more than $11.6 billion to resolve pending claims. However, finalization of the settlements has been slow, with many plaintiffs rejecting their individual offers and new claims continuing to be filed by individuals diagnosed with cancer following prior use of the weed killer.
To limit its future liability over Roundup, Bayer announced plans last year to remove glyphosate from Roundup formulations sold to U.S. residential customers by 2023. The products would still be sold under the Roundup label, but would use a different active ingredient, which has not been linked to a risk of non-Hodgkin's lymphoma. However, glyphosate would still be used in products sold to agricultural businesses and farmers, and in product sold in other parts of the world, Bayer officials said.
Damage from Glyphosate May Already Be Done for Generations
While efforts have been made to reduce the long-term effects from glyphosate, by limiting use of the herbicide, it is already present in generations of Americans.
In this new study, CDC researchers examined 200 microliter samples of urine gathered from 650 children ages 6 to 18 between 2013 and 2014. They also looked at 1,600 urine samples from adults over the same period.
According to the findings, 87% of children had detectable levels of glyphosate in their urine, and glyphosate was also detected in 80% of adult samples as well. The researchers deemed 0.2 nanograms per milliliter to be the lower limit of detection for glyphosate.
Some consumer watchdog groups and environmental organizations expressed concerns about the widespread presence of Roundup in children's urine, citing worries over cancer and other health side effects.
"Glyphosate is the most widely used herbicide in the country, yet until now we had very little data on exposure," Dr. Alexis Temkin, Ph.D., a toxicologist with the Environmental Working Group, said in a July 11 press release. "Children in the U.S. are regularly exposed to this cancer-causing weedkiller through the food they eat virtually every day."
Temkin called for the U.S. Environmental Protection Agency (EPA) to take regulatory action to lower the levels of glyphosate in the food supply and decrease the risk of childhood exposure.
In June, a federal appeals court ordered the EPA to re-evaluate the safety of glyphosate, castigating the agency for using flawed reasoning in its prior determination that glyphosate is unlikely to cause cancer. The court pointed out that the EPA did not follow its own guidelines in making such a determination, and failed to follow several federal laws.
"*" indicates required fields