Children's Acetaminophen Health Risks Require Label Changes: Panel
May 20, 2011
By: Staff Writers
A federal advisory panel is calling for sweeping changes on labeling instructions for Children's Tylenol and other child and infant medications. 
An advisory panel for the FDA said earlier this week that it wants acetaminophen-based drugs for children to have dosing instructions based on the child's weight, instead of the child's age. Currently, some Tylenol or acetaminophen children's drugs use age for dosing instructions while others use weight. The panel voted unanimously to standardize the labels based on weight.
Acetaminophen medication errors led to 14 deaths and 74 injuries from 2000 to 2010 in children under the age of 13, according to the FDA. Some of those deaths were confirmed to have been the result of parents giving younger children dosages meant for older children.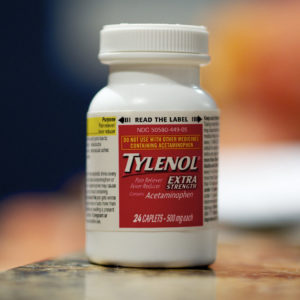 Learn More About
Side effects of Tylenol may cause autism and ADHD among children exposed during pregnancy. Find out if your family may be eligible for a Tylenol autism or ADHD settlement.
Learn More About this Lawsuit
In addition to calling for standardized dosage instructions based on weight, the panel also recommended that the FDA convince the industry to discontinue use of both infant and children's strength chewable acetaminophen products and develop a single-dose concentration usable by both. The industry announced a similar move at the FDA's behest with liquid medications earlier this month.
The panel also voted unanimously to recommend that the FDA require dosing instructions for infants as young as six months old to be placed on labels. Currently, the labels only provide dosing information for children as young as 2 years old, and requests that parents "ask a doctor" for dosing instructions on younger children.
Recommendations made by FDA advisory panels are not binding, but the FDA does usually follow the guidance of their outside experts. The recommendations were supported by Johnson & Johnson's McNeil Consumer Health Care, which has asked the FDA to adopt similar policies to those put forward by the advisory committee.
Acetaminophen, the generic name for Tylenol, is a pain killer and anti-inflammatory medication found in a number of over-the-counter and prescription drugs. In recent years, federal regulators have become concerned over the frequency of its use in a variety of medications. Overuse of the drug could lead to liver injury and other health problems, according to the FDA.
Earlier this year the FDA placed new limits on acetaminphen's use in other, more powerful, painkillers. Drugs affected by the new acetaminophen limits include Vicodin (acetaminophen and hydrocodone), Percocet (acetaminophen and oxycodone), and Tylenol with Codeine (acetaminophen and codeine).
"*" indicates required fields