Chronic Lymphocytic Leukemia Lawsuit Filed Over Roundup Exposure
July 24, 2017
By: Irvin Jackson
Monsanto faces a product liability lawsuit brought by an Arizona woman, who indicates she developed chronic lymphocytic leukemia after 31 years of Roundup exposure. 
The complaint (PDF) was filed by Donna Poulson, and her husband Charles, in the U.S. District Court for the District of Arizona on July 19, indicating that Monsanto mislead the public for years about the safety of Roundup, failing to warn that the widely used weedkiller may increase the risk of cancer.
Poulson states that she used Roundup on her property in Queen Creek, Arizona from about 1983 to 2002, and then used it again on property in Tempe, Arizona from 2002 through 2014. Following regular exposure to the glyphosate weedkiller for more than three decades, Poulson was diagnosed with chronic lymphocytic leukemia in November 2010.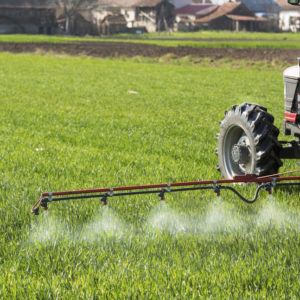 Chronic lymphocytic leukemia (CLL) is a type of cancer that starts in the bone marrow, and leukemia cells often build up slowly over time. It is a sub-type of non-Hodgkins lymphoma, which reports have linked to Roundup and exposure to glyphosate contained in the weedkiller.
The lawsuit indicates that Poulson and other users were unaware that the popular weed killer may increase the risk of cancer, and believed Monsanto's claims that it was "safer than table salt."
The case joins hundreds of similar Roundup lawsuits being pursued in courts nationwide by farmers, landscapers, agricultural workers and others regularly exposed to the weedkiller, alleging that plaintiffs may have avoided a diagnosis of non-Hodgkins lymphoma if warnings had been provided by Monsanto.
"During the entire time in which Mrs. Poulson was exposed to Roundup, she did not know that exposure to Roundup was injurious to her health or the health of others," her lawsuit states. "Mrs. Poulson first learned that exposure to Roundup can cause NHL and other serious illnesses sometime after July 29, 2015, when IARC first published its evaluation if glyphosate."
Given similar questions of fact and law raised in cases pending throughout the federal court system, the Roundup litigation is consolidated as part of an MDL, or multidistrict litigation, which is centralized before U.S. District Judge Vince Chhabria in the Northern District of California, for coordinated discovery and pretrial proceedings.
While Poulson's case will be transferred to the MDL, if Roundup settlements or another resolution for the litigation is not reached during the coordinated proceedings, it may be remanded back to the Middle District of Florida for a future trial date.
"*" indicates required fields