Cover Girl Lawsuit Alleges Products Exposed Consumers to Dangerous PFAS Chemicals
January 13, 2022
By: Russell Maas
According to allegations raised in a recently filed lawsuit against CoverGirl, certain versions of the cosmetic products expose consumers to toxic synthetic compounds known as PFAS, which have been linked to thyroid problems, cancer and other immunotoxic side effects.
The complaint (PDF) was brought in the Superior Court of The District of California Civil Division by GMO Free USA d/b/a Toxin Free USA on December 20, claiming that Cover Girl Cosmetics and Coty Inc. falsely advertised "TruBlend Pressed Powder" as safe for use, when in fact they contain harmful per- and polyfluoroalkyl substances (PFAS).
Serious concerns have emerged in recent years about long-term side effects of PFAS chemicals, which have been used in a number of different products, including some food packaging materials, pizza boxes, popcorn bags, fabrics and nonstick cooking pans.
However, the biggest problems linked to the chemicals have come from drinking water contamination from fire fighting foam, known as aqueous film-forming foams (AFFFs), which have dumped large volumes into the environment near military bases, airports and other training facilities.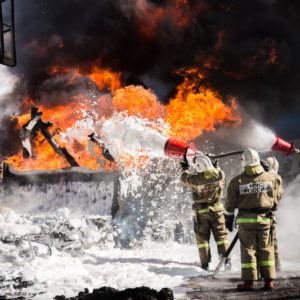 Toxin Free USA now states that laboratory testing conducted by the organization reveals samples of CoverGirl's TruBlend Pressed Powder contained 6,242 parts per million (ppm) of organic fluorine, which is considered an environmental and industrial contaminant, as well as an indicator of the presence of PFAS.
The lawsuit claims CoverGirl products pose an increased risk of long-term adverse health side effects as consumers apply the products directly to their skin. The organization states PFAS exposure may increase the risk of high cholesterol, thyroid disease, pregnancy complications, hypertension, ulcerative colitis, and kidney and testicular cancer, which are all side effects that have been linked to human exposure to PFAS.
"Contrary to Defendants' representations, the Product is not safe because it contains PFAS, which have a negative impact on the health of humans," the lawsuit states. "Not only are PFAS harmful to the environment, but because they do not degrade naturally, they damage human and animal health through bioaccumulation in blood and tissue."
While the lawsuit does not seek specific damages for consumers, the organization asks the Court to end CoverGirl's alleged false and deceptive labeling and marketing of and declaratory relief in the form of an order holding the manufacturer's conduct to be unlawful.
The case joins a growing number of cases involved in PFAS litigation throughout the United States. Most of the claims involve firefighter lawsuits brought by individuals diagnosed with cancer after regular exposure to the chemicals in AFFF, during fire training and response exercises. A number of local water supply companies have also joined the litigation, seeking damages associated with cleaning up PFAS chemicals that have contaminated drinking water nationwide.
In October 2021, the Environmental Protection Agency announced a Strategic Roadmap designed to address problems with PFAS chemicals, which timelines for setting enforceable drinking water limits for PFAS, a hazardous substances designation, a review of past PFAS rules which may not be protective enough, increased monitoring, data collection and research, a toxicity assessment and efforts to construct a technical foundation for the analysis of PFAS air emissions.
"*" indicates required fields